So most of these are books that I really want to read the next book of but have no clue what the hell is going on. I really believe that there needs to be a website that contains the summary of every book, so when the next book comes out you don't have to reread the previous. It would be much simpler and I would be more likely to finish more series.
These are in no particular order, and all of these books received 5 stars when I read them for the first time. I'll list when it came out, when I read it, and a review if there is one.
1. Rift by Andrea Cremer
Series: Nightshade Prequel #1
Publisher: Philomel
Number of Pages: 430
Goodreads
l
Amazon
(Only $4!)
Synopsis:
"

Sixteen-year-old Ember Morrow is promised to a group called Conatus after one of their healers saves her mother's life. Once she arrives, Ember finds joy in wielding swords, learning magic, and fighting the encroaching darkness loose in the world. She also finds herself falling in love with her mentor, the dashing, brooding, and powerful Barrow Hess. When the knights realize Eira, one of their leaders, is dabbling in dark magic, Ember and Barrow must choose whether to follow Eira into the nether realm or to pledge their lives to destroying her and her kind."
Release Date: August 7, 2012
Date Read: February 2, 2013
Review
Honestly, all I remember is me obsessing over it and some horses?
2. The Half-Life of Molly Pierce by Katrina Leno
Publisher: HarperTeen
Number of Pages: 256
Goodreads
l
Amazon
Synopsis:
"

You take it for granted. Waking up. Going to school, talking to your friends. Watching a show on television or reading a book or going out to lunch.




You take for granted going to sleep at night, getting up the next day, and remembering everything that happened to you before you closed your eyes.




You live and you remember.




Me, I live and I forget.




But now—now I am remembering.




For all of her seventeen years, Molly feels like she's missed bits and pieces of her life. Now, she's figuring out why. Now, she's remembering her own secrets. And in doing so, Molly uncovers the separate life she seems to have led…and the love that she can't let go."
Release Date: July 8, 2014
Date Read: June 26, 2014
Review
This book hit me hard due to the mental illness aspect of it. I remember shoving this book into the hands of every friend I had who was taking AP Psychology my junior year of high school. I don't remember much else besides some of the characters memories and a guy (Adam?) with a motorcycle.
3. Rush by Eve Silver
Series: The Game #1
Publisher: HarperTeen
Number of Pages: 368
Goodreads l Amazon
Synopsis:
"

So what's the game now? This, or the life I used to know?




Miki Jones's carefully controlled life spins into chaos after she's run down in the street, left broken and bloody. She wakes up fully healed in a place called the lobby - pulled from her life, through time and space into some kind of game in which she and a team of other teens are sent on missions to eliminate the Drau, terrifying and beautiful alien creatures.




There are no practice runs, no training, and no way out. Every moment of the game is kill or be killed, and Miki has only the questionable guidance of Jackson Tate, the team's alluring and secretive leader. He evades her questions, holds himself aloof from the others, and claims it's every player for himself. But when he puts himself at risk to watch Miki's back, he leaves her both frustrated and fascinated. Jackson says the game isn't really a game, that what Miki and her new teammates do now determines their survival. And the survival of every other person on the planet. She laughs. He doesn't. And then the game takes a deadly and terrifying turn."
Release Date: June 11, 2013
Date Read: June 24, 2013
Review
I feel like this book was really underrated for how much I enjoyed it! I genuinely remember NOTHING about this book. Which really sucks considering I bought the second book yesterday...This is definitely going to be a reread this year.
4. Bloodlines Series by Richelle Mead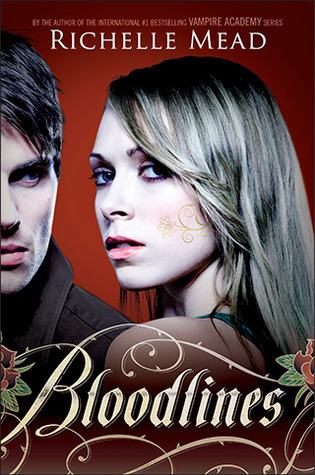 Publisher: Penguin Group
Goodreads l Amazon
Synopsis:
"

I wasn't free of my past, not yet.




Sydney's blood is special. That's because she's an alchemist - one of a group of humans who dabble in magic and serve to bridge the worlds of humans and vampires. They protect vampire secrets - and human lives. But the last encounter Sydney had with vampires got her in deep trouble with the other alchemists. And now with her allegiences in question, her future is on the line.




When Sydney is torn from her bed in the middle of the night, at first she thinks she's still being punished for her complicated alliance with dhampir Rose Hathaway. But what unfolds is far worse. Jill Dragomir - the sister of Moroi Queen Lissa Dragomir - is in mortal danger, and the Moroi must send her into hiding. To avoid a civil war, Sydney is called upon to act as Jill's guardian and protector, posing as her roommate in the unlikeliest of places: a human boarding school in Palm Springs, California. The last thing Sydney wants is to be accused of sympathizing with vampires. And now she has to live with one.




The Moroi court believe Jill and Sydney will be safe at Amberwood Prep, but threats, distractions, and forbidden romance lurk both outside - and within - the school grounds. Now that they're in hiding, the drama is only just beginning."
I read the last book of the series on May 13, 2016. This series is one of my favorites. I definitely enjoyed it more than the original Vampire Academy series. I really only remember certain scenes. Not going to name them in case of spoilers.
Review for The Indigo Spell l Review for The Fiery Heart
5. Pivot Point by Kasie West
Series: Pivot Point #1
Publisher: HarperTeen
Number of Pages: 343
Goodreads l Amazon (Only $3 for the ebook!)
Synopsis:
"Knowing the outcome doesn't always make a choice easier...


Addison Coleman's life is one big "What if?" As a Searcher, whenever Addie is faced with a choice, she can look into the future and see both outcomes. It's the ultimate insurance plan against disaster. Or so she thought. When Addie's parents ambush her with the news of their divorce, she has to pick who she wants to live with—her father, who is leaving the paranormal compound to live among the "Norms," or her mother, who is staying in the life Addie has always known. Addie loves her life just as it is, so her answer should be easy. One Search six weeks into the future proves it's not.




In one potential future, Addie is adjusting to life outside the Compound as the new girl in a Norm high school where she meets Trevor, a cute, sensitive artist who understands her. In the other path, Addie is being pursued by the hottest guy in school—but she never wanted to be a quarterback's girlfriend. When Addie's father is asked to consult on a murder in the Compound, she's unwittingly drawn into a dangerous game that threatens everything she holds dear. With love and loss in both lives, it all comes down to which reality she's willing to live through... and who she can't live without.

"
Release Date: February 12, 2013
Date Read: March 2, 2013
Review
I loved this book and I remember being really excited for the second book, but when I tried to read it I couldn't really remember what had happened. I definitely want to finish this series eventually.
6. Defiance by CJ Redwine
Series: Defiance #1
Publisher: Balzar + Bray
Number of Pages: 403
Goodreads l Amazon
Synopsis:
"

While the other girls in the walled city-state of Baalboden learn to sew and dance, Rachel Adams learns to track and hunt. While they bend like reeds to the will of their male Protectors, she uses hers for sparring practice.




When Rachel's father fails to return from a courier mission and is declared dead, the city's brutal Commander assigns Rachel a new Protector: her father's apprentice, Logan—the boy she declared her love to and who turned her down two years before. Left with nothing but fierce belief in her father's survival, Rachel decides to escape and find him herself.




As Rachel and Logan battle their way through the Wasteland, stalked by a monster that can't be killed and an army of assassins out for blood, they discover romance, heartbreak, and a truth that will incite a war decades in the making."
Release Date: August 28, 2012
Date Read: January 26, 2013
Review
Honestly, I want to finish this series but it has been so long I doubt it's going to happen. :( I have read other book by CJ Redwine though!
7. The Lunar Chronicles by Marissa Meyer
Publisher: Feiwel & Friends
Goodreads l Amazon
Synopsis:
"

A forbidden romance.
A deadly plague.
Earth's fate hinges on one girl . . .
CINDER

, a gifted mechanic in New Beijing, is also a cyborg. She's reviled by her stepmother and blamed for her stepsister's sudden illness. But when her life becomes entwined with the handsome Prince Kai's, she finds herself at the centre of a violent struggle between the desires of an evil queen - and a dangerous temptation.




Cinder is caught between duty and freedom, loyalty and betrayal. Now she must uncover secrets about her mysterious past in order to protect Earth's future.


This is not the fairytale you remember. But it's one you won't forget."
I read Cinder and Scarlet and then I bought Cress and Winter..then didn't read them. I do plan on still reading the rest of the series since I enjoyed the first two books.
Review of Cinder l Review of Scarlet
8. Wither by Lauren DeStefano
Series: The Chemical Gardens #1
Publisher: Simon Schuster
Number of Pages: 358
Goodreads l Amazon
Synopsis:
"

By age sixteen, Rhine Ellery has four years left to live. She can thank modern science for this genetic time bomb. A botched effort to create a perfect race has left all males with a lifespan of 25 years, and females with a lifespan of 20 years. Geneticists are seeking a miracle antidote to restore the human race, desperate orphans crowd the population, crime and poverty have skyrocketed, and young girls are being kidnapped and sold as polygamous brides to bear more children.




When Rhine is kidnapped and sold as a bride, she vows to do all she can to escape. Her husband, Linden, is hopelessly in love with her, and Rhine can't bring herself to hate him as much as she'd like to. He opens her to a magical world of wealth and illusion she never thought existed, and it almost makes it possible to ignore the clock ticking away her short life. But Rhine quickly learns that not everything in her new husband's strange world is what it seems. Her father-in-law, an eccentric doctor bent on finding the antidote, is hoarding corpses in the basement. Her fellow sister wives are to be trusted one day and feared the next, and Rhine is desperate to communicate to her twin brother that she is safe and alive. Will Rhine be able to escape--before her time runs out?




Together with one of Linden's servants, Gabriel, Rhine attempts to escape just before her seventeenth birthday. But in a world that continues to spiral into anarchy, is there any hope for freedom?"
Definitely going to be reading this! I loved the series so much I wanted to wait until I could get a hand on the hardcovers, and that proved to be a little difficult. I did find them this past September though!
Release Date: March 22, 2011
Date Read: January 3, 2013
Review
9. Fire & Flood by Victoria Scott
Series: Fire & Flood #1
Publisher: Scholastic Inc.
Number of Pages: 320
Goodreads l Amazon
Synopsis:
"

What would you do to save someone you love?




Time is slipping away. . . .




Tella Holloway is losing it. Her brother is sick, and when a dozen doctors can't determine what's wrong, her parents decide to move to the middle of nowhere for the fresh air. She's lost her friends, her parents are driving her crazy, her brother is dying--and she's helpless to change anything.




Until she receives mysterious instructions on how to become a Contender in the Brimstone Bleed. It's an epic race across jungle, desert, ocean, and mountain that could win her the prize she desperately desires: the Cure for her brother's illness. But all the Contenders are after the Cure for people they love, and there's no guarantee that Tella (or any of them) will survive the race.




The jungle is terrifying, the clock is ticking, and Tella knows she can't trust the allies she makes. And one big question emerges: Why have so many fallen sick in the first place?"
I really enjoyed this one and I don't know why I didn't pick up the next book. I'm unsure at this point whether I will read it.
Release Date: February 25, 2014
Date Read: January 7, 2014
Review
10. The Mephisto Covenant by Trinity Faegen
Publisher: Egmont USA
Goodreads l Amazon
Synopsis:
"

Sasha is desperate to find out who murdered her father. When getting the answer means pledging her soul to Eryx, she unlocks a secret that puts her in grave danger—she is an Anabo, a daughter of Eve, and Eryx's biggest threat.




A son of Hell, immortal, and bound to Earth forever, Jax looks for redemption in the Mephisto Covenant—God's promise he will find peace in the love of an Anabo. After a thousand years, he's finally found the girl he's been searching for: Sasha.




With the threat of Eryx always looming, Jax knows he has to keep Sasha safe and win her over. But can he? Will Sasha love him and give up her mortal life?"
I've read this entire series except for the last one. I honestly don't think I will be reading it since it has been so long and these books were a tad repetitive. Really enjoyable but there are so many books out there to read.
Date Read: October 2,2012
Release Date: September 27, 2011
Review
What books did you read, enjoy and barely remember?