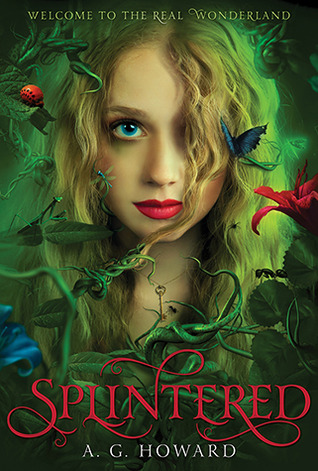 Author: A.G. Howard
Publisher: Amulet Books
Number of Pages: 371
Synopsis:
"

This stunning debut captures the grotesque madness of a mystical under-land, as well as a girl's pangs of first love and independence. Alyssa Gardner hears the whispers of bugs and flowers—precisely the affliction that landed her mother in a mental hospital years before. This family curse stretches back to her ancestor Alice Liddell, the real-life inspiration for Lewis Carroll's

Alice's Adventures in Wonderland

. Alyssa might be crazy, but she manages to keep it together. For now.

When her mother's mental health takes a turn for the worse, Alyssa learns that what she thought was fiction is based in terrifying reality. The real Wonderland is a place far darker and more twisted than Lewis Carroll ever let on. There, Alyssa must pass a series of tests, including draining an ocean of Alice's tears, waking the slumbering tea party, and subduing a vicious bandersnatch, to fix Alice's mistakes and save her family. She must also decide whom to trust: Jeb, her gorgeous best friend and secret crush, or the sexy but suspicious Morpheus, her guide through Wonderland, who may have dark motives of his own."
We all thought that Alice in Wonderland couldn't have gotten any weirder,well in Splintered...it did.
There are a LOT of things I can say about this book. I absolutely loved it and I picked up Unhinged, the second book in the series, as soon as I could find a copy. I don't know how A.G. Howard was able to come up with these ideas but do I worship her now.
Splintered was a read that Twitter convinced me to pick up. The way people would obsess over this book, it was obviously for a reason, and I loved the cover so I did pick it up. I loved this book. It had everything that any Alice in Wonderland fan would need. This is a slightly horrorish version of the real Alice in Wonderland.
My favorite part of this story would have to be that A.G. Howard didn't let the romance cloud the book. I, as a reader, didn't feel as if this book would be categorized as a romance. It certainly has romance in it but it primarily takes a step back and lets the action take the lead.
The characters are amazing. Alyssa is so bright and unique that she just makes a big impact on the story. If she were insecure or dependent on anything it would have taken a lot more for this book to have the intensity that it is. Jeb was just so dreamy it was ridiculous and Morpheus was as well. I have to say that Morpheus's sarcasm and wit definitely added some happy spirit to the book.
I did get slightly confused at various parts of the book because it is just THAT intense but if the book didn't have the intensity that it does it would not be as good and dark as it is now. Confusion or not I am definitely hooked to this series.
I really do have to applaud and bow down to A.G. Howard for creating such an interesting world that just changes the way you look at the original Alice in Wonderland. This really shows off the dark side of Wonderland and that really nailed this story for me.
Splintered is an absolute must read and I will guarantee that you will enjoy this book unless you are looking for something light and fluffy, then you should come back to it later. Otherwise, do yourself a favor and go pick up a copy...now.
Rating: 4 of 5 stars!!