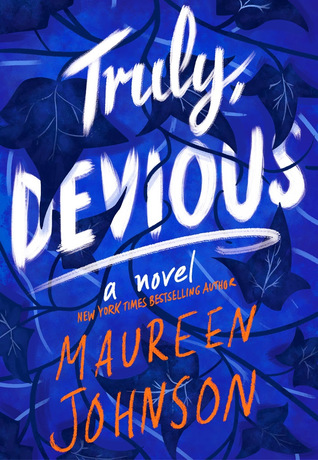 Author: Maureen Johnson
Series: Truly, Devious #1
Publisher: Katherine Tegen Books
Number of Pages: 432
Goodreads l Amazon
Synopsis:
"

Ellingham Academy is a famous private school in Vermont for the brightest thinkers, inventors, and artists. It was founded by Albert Ellingham, an early twentieth century tycoon, who wanted to make a wonderful place full of riddles, twisting pathways, and gardens. "A place," he said, "where learning is a game."

Shortly after the school opened, his wife and daughter were kidnapped. The only real clue was a mocking riddle listing methods of murder, signed with the frightening pseudonym "Truly, Devious." It became one of the great unsolved crimes of American history. True-crime aficionado Stevie Bell is set to begin her first year at Ellingham Academy, and she has an ambitious plan: She will solve this cold case. That is, she will solve the case when she gets a grip on her demanding new school life and her housemates: the inventor, the novelist, the actor, the artist, and the jokester. But something strange is happening. Truly Devious makes a surprise return, and death revisits Ellingham Academy. The past has crawled out of its grave. Someone has gotten away with murder. The two interwoven mysteries of this first book in the Truly Devious series dovetail brilliantly, and Stevie Bell will continue her relentless quest for the murderers in books two and three."
Truly, Devious has definitely brought my love for mysteries back to attention and I'm already itching for book 2.
This is the first book by Maureen Johnson that I've read and I was pleasantly surprised. The beginning of this novel definitely started off slow and it had trouble keeping my interest, but by a quarter of the way through I was hooked. The flashbacks to the kidnapping in 1936 were extremely interesting, and at first, it was my favorite part of the book, but once the murder happened at Ellingham Academy, I was enthralled with that. I wasn't able to put the book down.
The characters are quite interesting in this book. There's the main character, Stevie, who is a perfectly normal girl that doesn't stand out in any particular fashion (especially next to her peers), Ellie, who is the weirdest character I have ever read, and Nate, who I wasn't sure how I felt because he is such a good friend to Stevie but also is a bit negative. Then there was David and Hayes. I found David to be infuriating (and weird since he hung out with Ellie), but as the book went on he became more and more tolerable until I actually found myself really liking him. Hayes, I was pretty indifferent about. I just didn't really see anything interesting about him except for the fact that he seemed like a pretty stereotypical actor who knows he is a pretty boy. The characters in this novel are so diverse in their personalities and there are more characters I didn't even mention. I've never read about a group with such diverse personalities like this. These characters had so many quirks among them and it was so perfect for a school that is so hard to get into and is supposedly full of "geniuses".
The ending of this novel truly shook me to my core. Johnson did such an excellent job writing the ending, I was left shocked and confused (I'm pretty sure that was deliberate), and I am desperate for book two. I highly recommend that if you have any interest in Sherlock Holmes or mysteries that you pick this up!
Rating: 4 out of 5 stars!
*A copy of this book was provided by the publisher for an honest review.