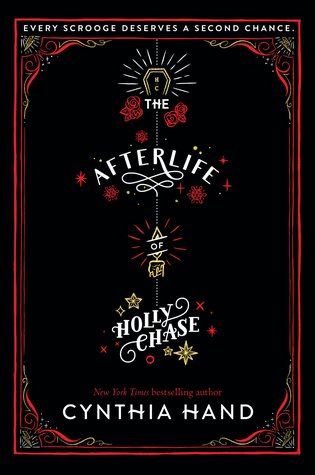 Author: Cynthia Hand
Publisher: HarperTeen
Number of Pages: 400
Goodreads | Amazon
Synopsis:
"

On Christmas Eve five years ago, Holly was visited by three ghosts who showed her how selfish and spoiled she'd become. They tried to convince her to mend her ways.




She didn't.




And then she died.




Now she's stuck working for the top-secret company Project Scrooge--as the latest Ghost of Christmas Past.




Every year, they save another miserly grouch. Every year, Holly stays frozen at seventeen while her family and friends go on living without her. So far, Holly's afterlife has been miserable.




But this year, everything is about to change. . . ."
Purchase Links: HarperCollins

|

Barnes & Noble

|

iBooks

|

Indiebound
Aesthetic Board
Cynthia Hand is the New York Times bestselling author of several books for teens, including the UNEARTHLY trilogy, THE LAST TIME WE SAY GOODBYE, MY LADY JANE and MY PLAIN JANE (with fellow authors Brodi Ashton and Jodi Meadows), THE AFTERLIFE OF HOLLY CHASE, and the upcoming novel THE HOW AND THE WHY (Fall 2019). Before turning to writing for young adults, she studied literary fiction and earned both an M.F.A. and a Ph.D. in fiction writing. She currently resides in Boise, Idaho,
with a husband who's addicted to typewriters, two kids, two cats, one crazy dog, and a entourage of imaginary friends.
www.cynthiahandbooks.com
"Holly-day Prize Pack" Giveaway
The winner will receive a signed copy of a Cynthia Hand novel of your choice, a Holly hat, knitted by Cynthia, a holiday spice candle, a copy of Mickey's Christmas Carol, two Christmas tree bath bombs, a cranberry/pear and vanilla lip balm set, a "make your own ugly sweater kit," a pair of Christmas tree glasses, a Christmas mug that reads: "Dear Santa, it's a long story," Christmas pencils, candy cane Christmas kisses, and a limited edition Holly Chase ornament, signed by Cynthia (not pictured), and digital download of The Afterlife of Holly Chase: An Alternate Christmas Carol by Lindsey Hunt.
a Rafflecopter giveaway
Meet the Main Character Twitter Chat #MTMC18