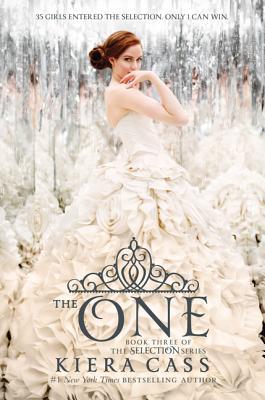 Author: Kiera Cass
Publisher: HarperTeen
Number of Pages: 323
Synopsis:
"

The highly anticipated third book in Kiera Cass's #1

New York Times

bestselling Selection series,

The One

will captivate readers who love dystopian YA fiction and fairy tales.

The One

is perfect for the fans who have followed America's whirlwind romance since it began—and a swoon-worthy read for teens who have devoured Veronica Roth's

Divergent

, Ally Condie's

Matched

, or Lauren Oliver's

Delirium

.




The Selection

changed America Singer's life in ways she never could have imagined. Since she entered the competition to become the next princess of Illéa, America has struggled with her feelings for her first love, Aspen—and her growing attraction to Prince Maxon. Now she's made her choice . . . and she's prepared to fight for the future she wants.




Find out who America will choose in

The One

, the enchanting, beautifully romantic third book in the Selection series!"
Utterly beautiful, irresistible, and gripping. America's story is one that has captured my heart in its entirety.
To be honest I've been avoiding writing this review but when I finally sat down to write I realized why. I have absolutely NO idea how to describe this book. Those words in bold were the best I could think of. This book is 100 times better than any words I could say or even imagine.
When The One came out on May 6th it was around the time when I was reading all those series enders that just sucked. They ended in the most possible worst way and so when The One finally came out I was very hesitant in reading it. The Selection series is one of my favorite series and I couldn't let this ending ruin it for me. I was absolutely blown away by the ending. Kiera Cass ended it in the most perfect way! It was probably the most satisfying ending I have ever read.
I was ecstatic with everything in this book. A lot of books can take you on an emotional rollercoaster but this book? I was all over the freaking place!
KIERA CASS WHAT ARE YOU DOING TO ME?!
My favorite part of this series/book had to be all the quotes I could pull out.
There were the ones that made you so emotional and happy you ended up crying:
"Break my heart. Break it a thousand times if you like. It was only ever yours to break anyway."
There were the cheesy romantic ones you thought your cheeks were going to rip from smiling so big:
"I want everything with you, America. I want the holidays and the birthdays, the busy season and lazy weekends. I want peanut butter fingertips on my desk. I want inside jokes and fights and everything. I want a life with you."
And lastly there were the ones that just made you giggle:
"What am I supposed to call you?""Your Royal Husbandness. It's required by law, I'm afraid."
The action was really great in this book. Some of it I just wasn't expecting and it just made this book a whole lot better. I don't know how Kiera Cass manages to write such amazing romance, funny stuff, and action. It isn't fair how talented she is at writing!
Kiera Cass has officially made it into my top 3. That being the list of Top Three Authors I Want To Meet Before I Die. She is not only on that list but at the top of it, after Cassandra Clare and Stephenie Meyer (Deal with it people).
The biggest reason I want to meet her? To say thank you to her. I want to thank her for creating characters like Maxon, America, and Aspen that just take over your heart. For creating a story that I'm so glad I picked up because I can't stop talking about it and my friends are getting pretty annoyed. Every time I'm in a book slump I can count on one of the Selection series books to pull me out because they are just that amazing.
So from the bottom of my heart to Kiera, Maxon, America, Aspen, and everyone in the book and the ones out who got this book to me THANK YOU!
If you are ever in the mood to read and book pick up The Selection. It is always my first recommendation to everyone.
I actually give this book an infinite amount of stars but for the sake of me not looking to crazy I'm giving it 6 out of 5 stars! Only 2 other books have gotten six stars.
Rating: 6 out of 5 stars!!