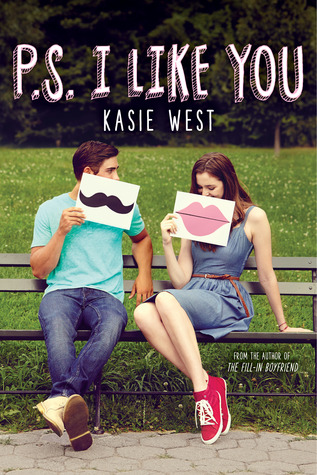 Author: Kasie West
Publisher: Point
Number of Pages: 330
Synopsis:
"While spacing out in chemistry class, Lily scribbles some of her favorite song lyrics onto her desk. The next day, she finds that someone has continued the lyrics on the desk and added a message to her. Intrigue!

Soon, Lily and her anonymous pen pal are exchanging full-on letters—sharing secrets, recommending bands, and opening up to each other. Lily realizes she's kind of falling for this letter writer. Only, who is he? As Lily attempts to unravel the mystery and juggle school, friends, crushes, and her crazy family, she discovers that matters of the heart can't always be spelled out… "
I loved this book because it had awesome characters and a fun plot. Lily is a hilarious main character who literally made me laugh out loud multiple times. Throughout the entire book I was really interested in Lily's endeavors, and everything was so unpredictable and original. To see her evolve throughout the book was both inspirational and hilarious. This emotional aspect of the book was really well-displayed, especially through the song lyrics that Lily was writing. The lyrics were really well done, and I would love it if an actual song was written for the book.
West was able to both keep my attention and provide an ending that left me smiling. The combination of hilarious characters with a fast-paced plot made the read quick and fun, but there were times where the author seemed to lose certain aspects of the book. For example, I felt like Lily and Isabel's relationship was a little undermined in order to make more room for Lily's relationship with whoever her mysterious desk writer was, even though the friendship aspect had started off as a major factor in the book. Yet, the book still kept a contemporary feel the entire way through that made it very enjoyable.
Overall, I would definitely recommend P.S. I LIKE YOU to everyone who has read any of West's previous books or is looking for a contemporary to read. The book is an easy, fun read that will make you laugh and smile the entire way through.
Rating: 4 out of 5 stars!