"Waiting On" Wednesday is a weekly event, hosted by
Breaking the Spine
, that spotlights upcoming releases that we're eagerly anticipating.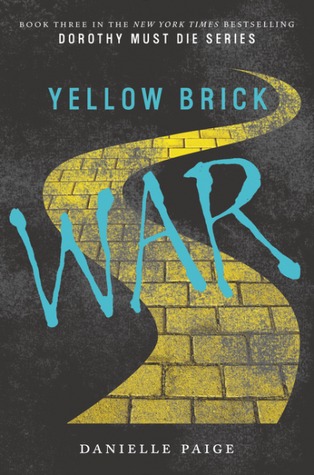 Author: Danielle Paige
Publisher: HarperCollins
Number of Pages: 432
Release Date: March 15, 2016
Synopsis:
"

In this dark, action-packed third book in the New York Times bestselling Dorothy Must Die series, Amy Gumm—the new girl from Kansas—must do everything in her power to save Kansas, kill Dorothy, and make Oz a free land once more.




Amy Gumm's mission to take down Dorothy Gale is not going according to plan. Dorothy has found a way to bridge the worlds of Oz and Kansas, and if the power-hungry dictator of Oz has her way, Kansas will be destroyed forever. Now, Amy has to team up with the Revolutionary Order of the Wicked to save her home, restore the balance between the magic and nonmagic worlds, maybe get the guy—and kill that not-so-sweet Kansas farm girl once and for all.




In the third installment of the

New York Times

bestselling Dorothy Must Die series, Danielle Paige's twisted versions of beloved Oz characters are back, including the biggest, baddest, most famous of all: the Wicked Witch of the West.




Welcome to the other side of the rainbow. Here there's danger around every corner, and magic shoes won't be able to save you.

"
I cannot wait to get more of this series! I will have to reread Dorothy Must Die and The Wicked Will Rise before I read this one because I don't remember much, but I can't wait to get my hands on this. Also, the covers keep getting better and I love how they look on my shelf. The spines add so much color to my mainly black bookshelf, thank you!