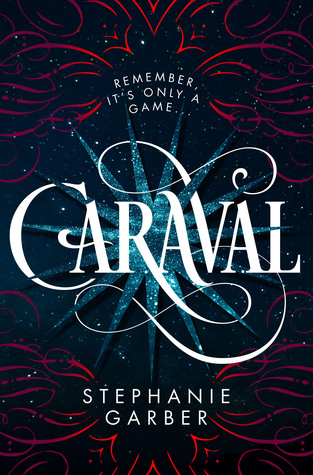 Author: Stephanie Garber
Series: Caraval #1
Publisher: Flatiron Books
Number of Pages: 407
Goodreads l Amazon
Synopsis:
"

Remember, it's only a game…




Scarlett Dragna has never left the tiny island where she and her sister, Tella, live with their powerful, and cruel, father. Now Scarlett's father has arranged a marriage for her, and Scarlett thinks her dreams of seeing Caraval—the faraway, once-a-year performance where the audience participates in the show—are over.




But this year, Scarlett's long-dreamt-of invitation finally arrives. With the help of a mysterious sailor, Tella whisks Scarlett away to the show. Only, as soon as they arrive, Tella is kidnapped by Caraval's mastermind organizer, Legend. It turns out that this season's Caraval revolves around Tella, and whoever finds her first is the winner.




Scarlett has been told that everything that happens during Caraval is only an elaborate performance. Nevertheless she becomes enmeshed in a game of love, heartbreak, and magic. And whether Caraval is real or not, Scarlett must find Tella before the five nights of the game are over or a dangerous domino effect of consequences will be set off, and her beloved sister will disappear forever.




Welcome, welcome to Caraval…beware of getting swept too far away."
This book was phenomenal, it brought me back to the feeling I had when I was reading the Night Circus by Erin Morgenstern. I felt magic and excitement when I was reading this book and the end of the book had me gasping multiple times, and I even shed some tears.
"Hope is a powerful thing. Some say it's a different breed of magic altogether. Elusive, difficult to hold on to. But not much is needed."
Scarlett and Tella's relationship very much reminded me of my relationship with my sister. We are really close (even though she may try to deny it), and their relationship had me very emotional, so when Tella was kidnapped I felt just as strongly about it, like Scarlett. I loved Scarlett's determination and her focus on her sister while she was navigating a new place that is one of a kind.
Julian was a character that I knew from the beginning I wouldn't be able to dislike. His bad-boy demeanor and how he entered into the plotline is exactly the type of characters that I love. His entire character is just mindblowing, he definitely made this book what it is. This simply could have been a story of two sisters and it still would have been great, but Julian added that extra drama and flair that took this book to the next level. Julian's role really ended up hitting me hard and I fell for him. I would want a character like him at my side, he makes a great sidekick/friend.
"Every touch created colors she had never seen. Colors as soft as velvet and as sharp as sparks that turned into stars."
T
he writing in this book was outstanding, I could really imagine everything that Crimson was seeing. I think I used about a million post-it notes just noting every single sentence that I enjoyed. There is such an eloquence and creativity needed to write the way that Stephanie Garber does and I am looking forward to all her other works.
Garber did an unbelievable job in creating a world that was fanciful, extravagant, and beautiful. I think I want to go to Legend's Caraval more than I want to go to Hogwarts at this point! (Please don't hate me!)
"It came in cool shades of forget-me-not-blue, which wrapped around her like evening fog, making her feel hidden enough to acknowledge that she wanted to experience more of Caraval's pleasures than she would ever have admitted out loud."
Rating: 5 out of 5 stars!!