It's been so long since I've posted!! I've missed you guys terribly but I couldn't wait to write this post because it has one of my post anticipated books of 2014 on it!!
I'm really excited for both these reads!!
The first release is...On the Edge by Allison van Diepen!!
Publisher: HarperTeen
Number of Pages: 304
Synopsis:
"

From Allison van Diepen, author of

Snitch

and

Street Pharm

, comes a sexy, dangerous novel about a teen who witnesses a murder and gets caught up in the seedy world of Miami's gangs.




Maddie Diaz never should have taken that shortcut through the park. If she hadn't, she wouldn't have seen two members of the Reyes gang attacking a homeless man. Now, as the only witness, she knows there's a target on her back.




But when the Reyes jump her on the street, Maddie is protected by a second gang and their secretive leader, Lobo, who is determined to take down the Reyes himself. Lobo is mysterious and passionate, and Maddie begins to fall for him. But when they live this close to the edge, can their love survive?




On the Edge is a compelling story about fighting for what's right and figuring out where you belong. The novel showcases a gritty, realistic voice and earth–shattering romance that will intrigue readers of Simone Elkeles and Paul Griffin and captivate fans of Allison van Diepen's other novels."
This book reminds me a lot of Perfect Chemistry and Before You, both of which I LOVED! So this is definitely a book I will most likely be reading ASAP.
The next release is one that I am psyched for!! It's...Girl Online by Zoe Sugg!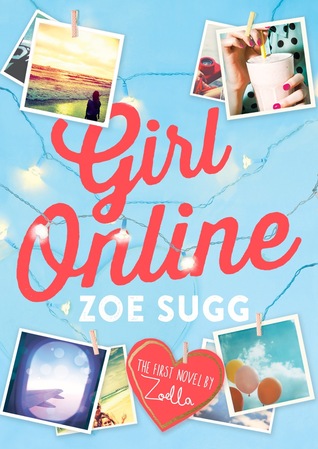 Release Date: November 25, 2014
Publisher:
Atria / Keywords Press
Number of Pages: 352
(Goodreads)
Synopsis:
"

I had no idea GirlOnline would take off the way it has - I can't believe I now have 5432 followers, thanks so much! - and the thought of opening up to you all about this is terrifying, but here goes...




Penny has a secret.




Under the alias GirlOnline, she blogs about school dramas, boys, her mad, whirlwind family - and the panic attacks she's suffered from lately. When things go from bad to worse, her family whisks her away to New York, where she meets the gorgeous, guitar-strumming Noah. Suddenly Penny is falling in love - and capturing every moment of it on her blog.




But Noah has a secret too. One that threatens to ruin Penny's cover - and her closest friendship - forever"
I am a bit apprehensive about this book because I don't really know anything about Zoe's writing style but either way I love Zoe and am so excited for this release!
What new releases are you excited about?