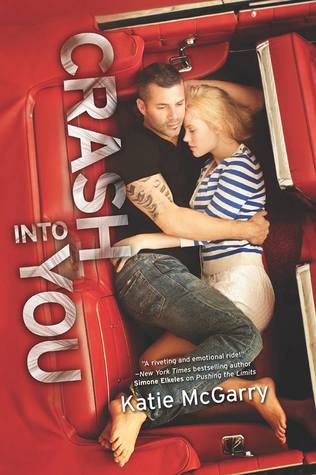 Author: Katie McGarry
Publisher: Harlequin Teen
Number of Pages: 474
Synopsis:
"

The girl with straight As, designer clothes and the perfect life—that's who people expect Rachel Young to be. So the private-school junior keeps secrets from her wealthy parents and overbearing brothers...and she's just added two more to the list. One involves racing strangers down dark country roads in her Mustang GT. The other? Seventeen-year-old Isaiah Walker-a guy she has no business even talking to. But when the foster kid with the tattoos and intense gray eyes comes to her rescue, she can't get him out of her mind.




Isaiah has secrets, too. About where he lives, and how he really feels about Rachel. The last thing he needs is to get tangled up with a rich girl who wants to slum it on the south side for kicks-no matter how angelic she might look.




But when their shared love of street racing puts both their lives in jeopardy, they have six weeks to come up with a way out. Six weeks to discover just how far they'll go to save each other."
Katie McGarry really hit the feels again in her third novel. I just don't know how she does it, she keeps writing some kick-ass novels. WHY ARE YOU SO TALENTED?! I fell in love with both Isaiah and Rachel in the book.
I have to say that Rachel really stuck out as a main character for me. She's just so...me. She's a car-nut, can't stand her overbearing family at times, and she just wants a chance to breathe in this crazy world. The biggest thing was the car thing for me, I LOVE me some fancy cars. There was no shortage of nice cars in this book, I was practically drooling just reading about them. Rachel is definitely I would love to be friends with.
Isaiah...was not what I expected. I can't even explain it, he just was so sweet which for some reason I didn't expect. He just seemed like the type that had been jaded for time but while there were walls, they weren't built very well. I definitely enjoyed getting to know Isaiah more.
When reading this book, I really wish I had a heads-up to the ending. That really hurt and I really didn't know what to do with myself. It was something totally out of the blue and it just punched me in the stomach. Beware readers!
Katie McGarry is one of my favorite authors and I absolutely adore her, she is so talented when writing and I know for a fact that I will read whatever she writes. I am really hoping that she writes a sequel to Rachel and Isaiah's story because they really need one in my opinion.
I do HIGHLY recommend this and you should start from the beginning, Pushing the Limits.
Rating: 5 out of 5 stars!!