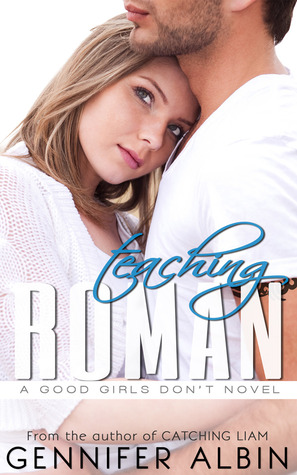 Author: Gennifer Albin
Publisher: Self-Published
Number of Pages: N/A
Synopsis:
"

Jessica Stone has her life in perfect order until her perfectly boring boyfriend Brett puts things in perspective. So when she receives a call to action from her heartbroken best friend Cassie, she ditches her plans for Winter Break in gloomy Olympic Falls and sets off to Mexico for some fun in the sun.




Determined to use her oceanview to prep for her MCATS, she doesn't plan to run into anyone from Olympic State, least of all the cute communications prof she's been crushing on for a year. When he unexpectedly saves the day, the two are thrown together in a distinctly extracurricular activity.




Roman Markson doesn't expect to run into anyone he knows from Olympic Falls while visiting his family in Puerto Vallarta, especially not a former student. Although Jess Stone has a way of catching men's attention, a relationship with her is strictly off-limits. However, the rules feel less strict in Mexico, so they agree to a plan: one week in paradise and nothing more.




But avoiding each other back on campus is harder than they anticipated, especially when they can't stay away from one another. Neither is sure what they have to learn—and lose—before life teaches them a lesson they'll never forget"
This is the second novel in Gennifer Albin's Good Girls Don't series. I have to say that I really saw an improvement in Albin's writing. You could see more depth in the writing as well as more plot. It really made this novel more enjoyable, and I really loved it.
Jessica is someone that I can really relate to (except when she tries really hard in school because I certainly don't :/ ). She cares and she's worries over everything and how it will affect her future. It really made her more realistic and relatable. The best thing about reading a book can be relating to the main character. It really gives you a connection to the book and it becomes even more realistic.
I have to say that Roman is one adorable guy and I loved reading about him. Their relationship went through a lot of obstacles and in the end they handled it all in mediocre way which is really made this book fall short in my eyes.
Otherwise this book is a great read and I highly recommend it if you were hesitant after reading the first book.
Rating: 4 out of 5 stars!
*A copy of this book was provided by the author and tour host in exchange for an honest review.
Buy Links
Author Bio
I like coffee. A lot. Writing gives me time to go get a cup without my kids. I like books as much as I like coffee, but it is easier to read with children hanging on you than drink coffee due to the threat of third degree burns. That's why coffee gets top billing in my
intro: its unattainability.
I hold a Masters in English with a specialization in 18th century women's studies. While this is a highly marketable area of expertise, I stay home with my kids, which means my 3 year-old son uses correct grammar and doesn't burn down the house.
I have a ridiculously supportive husband who dreams of being included on a book jacket: "The author lives in Kansas with her husband, two children, and a Tuesday cat."
Author Links
Facebook Fan Page:
https://www.facebook.com/genniferalbinbooks
Twitter:
https://twitter.com/GenniferAlbin
Goodreads:
https://www.goodreads.com/author/show/4906436.Gennifer_Albin