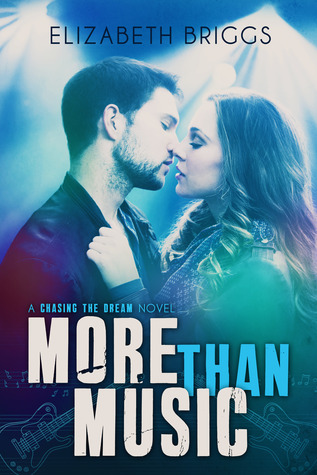 Author: Elizabeth Briggs
Publisher: Victory Publishing
Number of Pages: 303
Synopsis:
"

Music major Maddie Taylor just finished her junior year of college and has a summer internship lined up with the LA Philharmonic, yet every night she practices guitar and secretly dreams of a louder life. But geeky girls like her don't get to be rock stars. That is, until tattooed singer Jared Cross catches her playing guitar and invites her to join his band on The Sound, a reality TV show competition.




Once on the show, Maddie discovers there's more to Jared than his flirty smile and bad boy reputation – and that he's just as big a geek as she is. With each performance their attraction becomes impossible to ignore, but when the show pressures them to stay single they're forced to keep their relationship secret.




As the competition heats up, Jared will do whatever it takes for his band to win, and Maddie must decide if following her dream is worth losing her heart."
This is kind of one of those New Adult romances that is just supposed to be a light read, nothing to cry over or go crazy with frustration. It's an enjoyable read, especially for someone like me, who is kind of a music geek. I sing myself so when I was able to relate to some of the situations in the book.
My favorite thing about this book would have to be all the geeky comic book references. I did squeal at some of them(especially when Marvel was involved). It also involves a TV show about bands trying to win big, if you've ever watched The Voice then this show will be a breeze to follow, otherwise I'm not so sure.
"I'd lost myself in the show, in Jared, in the impossible dream and the beautiful lie."
The only problem I really had were with the main characters in this book, Maddie and Jared, they just seemed a bit weak. They kind of just didn't put up a fight when it came to fighting their desires for each other and that made it seem a little unrealistic. Hector and Kyle were lots of fun to read about, especially Hector. They are both great guys and I would LOVE to read about Kyle and Alexis's relationship!
The romance in this book was definitely spot on! It was sweet when needed
"I didn't know what would happen with the band, but I knew we'd get through it. Because what we had together was more than music. It was love."
and hot all the other.
"We only had a few stolen minutes before we had to perform again, and our kisses had a frenzied, reckless edge, two addicts desperate for their next hit after going through days of withdrawal."
The romance was probably the best thing about the book. It was well written and it definitely kept me wanting more. I would say that at the end Maddie and Jared were a bit irresponsible with their decisions and they didn't stick to their plans. They kind of just went at everything without thinking about where they were or who could be there.
I'd definitely recommend this book to p
eople who enjoy the occasional light musical romance. If it was possible to hear the music in this novel I would have LOVED to. Elizabeth should definitely think about that possibility.
Rating: 4 out of 5 stars!
*A copy of this book was provided by the publisher and Netgalley in exchange for an honest review.