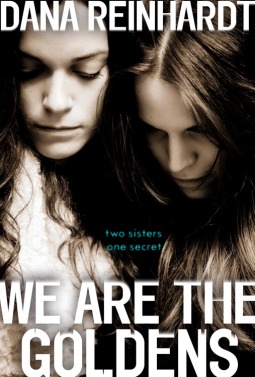 Author: Dana Reinhardt
Publisher: Wendy Lamb Books
Number of Pages: 208
Synopsis:
"

Nell knows a secret about her perfect, beautiful sister Layla. If she tells, it could blow their world apart.




When Nell and Layla were little, Nell used to call them Nellayla. Because to Nell, there was no difference between where she started and her adored big sister ended. They're a unit; divorce made them rely on each other early on, so when one pulls away, what is the other to do? But now, Nell's a freshman in high school and Layla is changing, secretive. And then Nell discovers why. Layla is involved with one of their teachers. And even though Nell tries to support Layla, to understand that she's happy and in love, Nell struggles with her true feelings: it's wrong, and she must do something about it."
I didn't read the synopsis going into this book. I wasn't sure what it was about except for the fact that there were two sisters that were really close. I really picked up the book for that reason, the sister relationship. I have a really close relationship with my sister so I was interested in seeing how the characters relationship would pane out in the book.
I was definitely not expecting such a heavy topic. I guess I should have guessed that it wasn't some happy, light hearted book from looking at the cover, but it didn't even pop into my head.
I just wanted to post that this book was referenced in Orange is the New Black.
At first I was a bit uncomfortable by the whole situation because this whole student--teacher relationship thing actually happened at a school that was in the same district that my school was in so it got really big. It was a really uncomfortable especially since it was in a middle school, but that's besides the point. Once I got through the uncomfortable phase of the book, I really noticed how well written the story is--and I'm not talking about the author's style, but I'm talking about the whole situation itself (aka the plot).
The book is told in Nell's POV, Layla is Nell's older sister and the one who is having the relationship with the teacher. Throughout the whole book Nell is mostly just out of the loop about what's going on. She doesn't know what is happening between her sister and the teacher but only that they are in a relationship. The author really gets through the point that nobody really knows what is going but they know that something is not right. Nell didn't have to know every detail to know that her sister was with a teacher. I think that is what really makes this book stand out and makes it unique.
To be honest, I don't really think that this book is about not to have a student--teacher relationship (duh!) but it's more about taking the step and letting an adult about what is going on even though the person who is involved might end up resenting you and even hating you. It's better to know that they are out of a bad situation and not being happy with you rather than continue letting them hurt themselves and they being happy with you. The right decision is always the one that might be harder and it might be the option that hurts the most.
I really enjoyed reading this book and this isn't the first Dana Reinhardt book I've read (it's the second) so I was a bit surprised at the darkness that is in this book but I still really enjoyed it. I did take a couple days to really let everything sink in and I ended up realizing that I thoroughly enjoyed this book.
Rating: 4.5 out of 5 stars!!
*A copy of this book was provided by Netgalley and the publisher in exchange for an honest review.