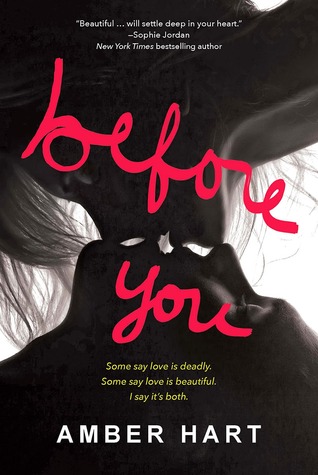 Author: Amber Hart
Publisher: K-Teen
Number of Pages: 320
Synopsis:
"Some say love is deadly. Some say love is beautiful. I say it is both.


Faith Watters spent her junior year traveling the world, studying in exquisite places, before returning to Oviedo High School. From the outside her life is picture-perfect. Captain of the dance team. Popular. Happy. Too bad it's all a lie.


It will haunt me. It will claim me. It will shatter me. And I don't care.


Eighteen-year-old Diego Alvarez hates his new life in the States, but staying in Cuba is not an option. Covered in tattoos and scars, Diego doesn't stand a chance of fitting in. Nor does he want to. His only concern is staying hidden from his past—a past, which if it were to surface, would cost him everything. Including his life.




At Oviedo High School, it seems that Faith Watters and Diego Alvarez do not belong together. But fate is as tricky as it is lovely. Freedom with no restraint is what they long for. What they get is something different entirely.


Love—it will ruin you and save you, both."
Fans of Simone Elkeles's Perfect Chemistry will instantly fall for Diego and Faith's story and for their perfect chemistry. It is definitely a read to push down my sister's throat.
This story blew me away. I'm a very big fan of Simone Elkeles so when I read the synopsis for this book I knew I had to have it. It lived up to its expectations. I read this book in a solid 4 hours and I had a hard time parting myself from it throughout those 4 hours.
Diego and Faith have this thing that just made them click. Their chemistry was definitely spot on with them understanding each other and willing to sacrifice for each other. They both had issues that they were dealing with and they helped each other get past those issues to be their true selves.
"I definitely don't get everything I want. But, if I could pick anything in this world to hold onto, it would be you."
There were so many quotes in this book I could have latched onto and just absorbed but there were SO many. The amount of romantic, real, and funny quotes in this book was just making me delirious with happiness. This book really just pinched, clawed, and tore itself into my heart. It was just the type of book I was looking for to get out of the reading slump I was in.
From what I've read it seemed to me that some people thought that this book was a bit too similar to Perfect Chemistry, and that maybe true, but for me this book seemed a bit darker and more issue heavy. Not only did this book deal with romance, first love, and drugs, but it also dealt with the aspect of society and how much they can influence how we as people act. This is something I really deal with at home so it was great seeing it as an issue in a YA read.
This is definitely a great read and while I said it already I will definitely be making my sister read this (she's one of the biggest Simone Elkeles fans I know). I do HIGHLY recommend this. The ending nearly killed me but it was well worth it :) .
Rating: 5 out of 5 stars!!
*A copy of this book was provided by the publisher via Netgalley in exchange for an honest review.