So I have a bad habit of reading a book and then moving on to the next rather than reviewing it...and then I kind of forget about it! So here are all my reviews for YA books that I read awhile ago but never got a chance to review. New Adult and series editions coming later!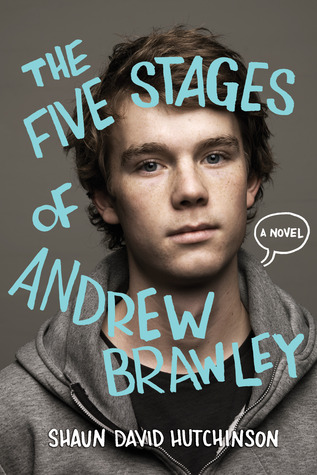 Author: Shaun David Hutchinson
"

Andrew Brawley was supposed to die that night. His parents did, and so did his sister, but he survived.




Now he lives in the hospital. He serves food in the cafeteria, he hangs out with the nurses, and he sleeps in a forgotten supply closet. Drew blends in to near invisibility, hiding from his past, his guilt, and those who are trying to find him.




Then one night Rusty is wheeled into the ER, burned on half his body by hateful classmates. His agony calls out to Drew like a beacon, pulling them both together through all their pain and grief. In Rusty, Drew sees hope, happiness, and a future for both of them. A future outside the hospital, and away from their pasts.




But Drew knows that life is never that simple. Death roams the hospital, searching for Drew, and now Rusty. Drew lost his family, but he refuses to lose Rusty, too, so he's determined to make things right. He's determined to bargain, and to settle his debts once and for all.




But Death is not easily placated, and Drew's life will have to get worse before there is any chance for things to get better."
I really enjoyed this book. Part of this book is a graphic novel and that makes it all the more enjoyable. There were moments where I was forward to the graphic novel than the actual story line...but there were times when it was the opposite! There were parts where I was laughing and then others where I was crying like a baby. The character development is also done very well.
I have to say that when I first recieved the book I wasn't really looking forward to reading it but after reading it I was glad. It really shows people how to deal with grief and how to accept people if they are different or less fortunate than them. Part of this book is very relevant with all the LGBTQ news that has been happening.
Shaun David Hutchinson did a very good job of writing a book that was not only fun to read but a book that was also thought-provoking.
Rating: 4 out of 5 stars!
Author: Deborah Lytton
Publisher: Shadow Mountain
"

Love is blind, but it's also deaf. Stella was born to sing. Someday Broadway. Even though she's only a sophomore at a new high school, her voice has given her the status as a "cool kid." But everything changes when a tragic accident renders her deaf. She can't hear herself sing not to mention speak. She can't hear anything. Silence. What happens when everything you've dreamed of and hoped for is shattered in a single moment?




Enter Hayden, the boy with blond curls who stutters. He's treated like an outcast because he's not "normal." And, yet, Stella feels an attraction to him that she can't explain. As Hayden reaches out to help Stella discover a world without sound, his own tragic past warns him to keep a distance. But their connection is undeniable. Can the boy who stutters and the girl who's deaf ever find a happily-ever-after? Silence is a story of friendship and hope with a lesson that sometimes it takes a tragedy to help us find and appreciate beauty and love in unexpected place."
To be honest I probably would have never read this book if the copy of the ARC I recieved had this cover. I know its bad but with all the books in the world, I choose to read the ones with pretty covers. The book itself tore my heart a little. I just finished my junior year of high school and this book reminded me a lot of how I used to be. I felt like I couldn't really be friends with someone because they were "above" or somehow "better" than me just because of one detail.
Hayden is kind of the same but he manages to connect with Stella because they both have these "disabilities". I just felt for Hayden so much. He is such sweet, kind guy and sometimes sweet, kind guys are the ones who are insecure or shy.
This book wasn't another teen romance book, even if that is what it is categorized as. It is a story about what life is really like, horrible stuff happens and then you realize how other, less fortunate people live. These kind of scenarios happen all the time--all day, every day.
I highly recommend this book!
Rating 4.5 out of 5 stars!!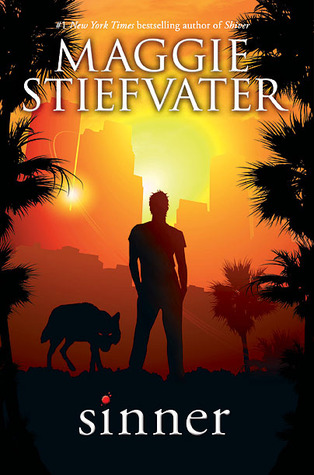 Author: Maggie Stiefvater
Publisher: Scholastic Press
"found.

Cole St. Clair has come to California for one reason: to get Isabel Culpeper back. She fled from his damaged, drained life, and damaged and drained it even more. He doesn't just want her. He needs her.


lost.

Isabel is trying to build herself a life in Los Angeles. It's not really working. She can play the game as well as all the other fakes...but what's the point? What is there to win?


sinner.

Cole and Isabel share a past that never seemed to have a future. They have the power to save each other and the power to tear each other apart. The only thing for certain is that they cannot let go."
To be honest, I read this book back in August of 2014...so almost a whole year ago. I've been avoiding this review because I just didn't get the point of this book. I really enjoyed the first 3 books of the Wolves of Mercy Falls. Well, for the most part. I could see why they were written but this book I just came up blank.
My best guess would have to be that readers wanted to know what happen to Cole St. Clair and Isabel Culpeper and their relationship. This plot seemed better suited for a paranormal rom-com than a book. I did enjoy it but I found that I would have enjoyed it better as a short novella or a movie. The length of the book was unnecessary.
Overall the writing was good, Cole was witty if not troubled, and Isabel was just as hostile (in a good way) as always. There just seemed to be no climax to the story, no real point. It was one of those books that I would usually fly through because it is a YA cliched romance book--something I would usually fly through in one sitting. It just wasn't that, Stiefvater has this amazing writing technique that you can't fly through.
I wanted to really badly give this book a four or five but the lack of a rich plot was a bit off putting. Luckily, Cole's witty rock star personality combined with Isabel's attitude was entertaining as all hell.
Rating: 3 out of 5 stars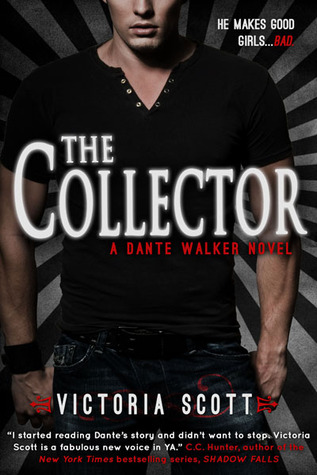 Author: Victoria Scott
Publisher: Entangled Teen
"He makes good girls...bad.


Dante Walker is flippin' awesome, and he knows it. His good looks, killer charm, and stellar confidence have made him one of hell's best—a soul collector. His job is simple: weed through humanity and label those round rears with a big red good or bad stamp. Old Saint Nick gets the good guys, and he gets the fun ones. Bag-and-tag.




Sealing souls is nothing personal. Dante's an equal-opportunity collector and doesn't want it any other way. But he'll have to adjust, because Boss Man has given him a new assignment:




Collect Charlie Cooper's soul within ten days.




Dante doesn't know why Boss Man wants Charlie, nor does he care. This assignment means only one thing to him, and that's a permanent ticket out of hell. But after Dante meets the quirky Nerd Alert chick he's come to collect, he realizes this assignment will test his abilities as a collector…and uncover emotions deeply buried."
I read this book after I read Fire & Flood by Victoria Scott and wow, this was a very different change of pace. The writing was incredibly different...this was a very obvious comedy. It was definitely not what I was expecting but I enjoyed it none the less. It did take me a while to get used to and the writing wasn't as developed as the writing in Fire & Flood. I did have to remember that it was Scott's first novel and every author's writing improves with time.
The characters are great. I loved the fact that Charlie wasn't this popular, beautiful girl. She wasn't even those girls who were an outcast but was secretly beautiful that whole time. No--Victoria Scott made this realistic in the fact that Charlie wasn't popular and she was the average looking nerd. It was just really refreshing to read. Dante, on the other hand, hottie-with-a-body!
Overall, the entire was great. I wouldn't suggest it to people looking for serious novels or subtle comedy.
Rating: 4 out of 5 stars!
Author: Janet Gurtler
Publisher: Sourcebooks Fire
Number of Pages: 304
Goodreads l Amazon
Synopsis:
"The truth is that Jess knows she screwed up.

She's made mistakes, betrayed her best friend, and now she's paying for it. Her dad is making her spend the whole summer volunteering at the local soup kitchen.


The truth is she wishes she was the care-free party-girl everyone thinks she is.

She pretends it's all fine. That her "perfect" family is fine. But it's not. And no one notices the lie...until she meets Flynn. He's the only one who really sees her. The only one who listens.


The truth is that Jess is falling apart – and no one seems to care.

But Flynn is the definition of "the wrong side of the tracks." When Jess's parents look at him they only see the differences-not how much they need each other. They don't get that the person who shouldn't fit in your world... might just be the one to make you feel like you belong."
I wasn't expecting much more than a cheesy, cliched teen romance when I started reading this book, and that really is what this book is about with a good message. The message isn't something like "don't jump to conclusions" or "hear a person out". It has a better message.
Jess realizes how lucky she is to live a very easy life because she thought a guy was cute. Flynn might be an attractive guy but he has a rough life and Jess might have never gotten to know that or Flynn if she hadn't screwed up and was forced to work at a soup kitchen.
This book, while cliched, does have a very good message behind it. I loved every single little hidden secret behind the words. I ended flipping through this book like a madman and enjoying every minute of it.
Rating: 3.5 stars out of 5