Apparrently, I haven't done one of these since November 2014. Now I am not okay with that but none the less I have 5 amazing books that I am looking forward to see released this week.
The first book is releasing tomorrow, it is...Something Beautiful by Jamie McGuire!
Release Date: August 18, 2015
Publisher: Self-Published
Number of Pages: 160
Synopsis:
"

America Mason, a sassy undergrad at Eastern State University, is in love with a Maddox--Shepley Maddox. Unlike his cousins, Shepley is more lover than fighter, but a road trip to her parents' home in Wichita, Kansas could mean the next step, or the end of everything."
The book that I am absolutely DYING for is...The Boy Most Likely To by Huntley Fitzpatrick!!!
Release Date: August 18, 2015
"

Tim Mason was The Boy Most Likely To:

- find the liquor cabinet blindfolded

- need a liver transplant

- drive his car into a house




Alice Garrett was The Girl Most Likely To:

- well, not date her little brother's baggage-burdened best friend, for starters.




For Tim, it wouldn't be smart to fall for Alice. For Alice, nothing could be scarier than falling for Tim. But Tim has never been known for making the smart choice, and Alice is starting to wonder if the "smart" choice is always the right one. When these two crash into each other, they crash hard.




Then the unexpected consequences of Tim's wild days come back to shock him. He finds himself in a situation that isn't all it appears to be, that he never could have predicted . . . but maybe should have.




And Alice is caught in the middle.




Told in Tim's and Alice's distinctive, disarming, entirely compelling voices, this return to the world of My Life Next Door is a story about failing first, trying again, and having to decide whether to risk it all once more."
I LOVED The Boy Next Door and when I read What I Thought Was True I was really disappointed. I am ready to get back into the world of this family!
A book that many are looking forward to is...Percy Jackson's Greek Heroes by Rick Riordan!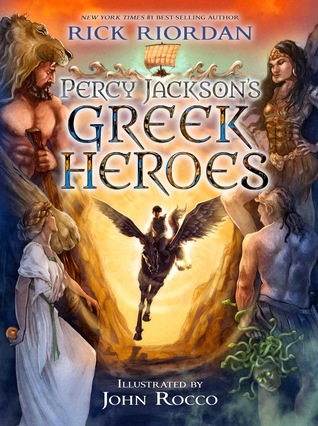 Release Date: August 18, 2015
Publisher: Disney Hyperion Books
Number of Pages: 336
Synopsis:
"

Who cut off Medusa's head? Who was raised by a she-bear? Who tamed Pegasus? It takes a demigod to know, and Percy Jackson can fill you in on the all the daring deeds of Perseus, Atalanta, Bellerophon, and the rest of the major Greek heroes. Told in the funny, irreverent style readers have come to expect from Percy, ( I've had some bad experiences in my time, but the heroes I'm going to tell you about were the original old school hard luck cases. They boldly screwed up where no one had screwed up before. . .) and enhanced with vibrant artwork by Caldecott Honoree John Rocco, this story collection will become the new must-have classic for Rick Riordan's legions of devoted fans--and for anyone who needs a hero. So get your flaming spear. Put on your lion skin cape. Polish your shield and make sure you've got arrows in your quiver. We're going back about four thousand years to decapitate monsters, save some kingdoms, shoot a few gods in the butt, raid the Underworld, and steal loot from evil people. Then, for dessert, we'll die painful tragic deaths. Ready? Sweet. Let's do this."
This is a book that Harleen is looking forward to a lot more than me. She's a much bigger fan of Percy Jackson :)
This book is a bit creepy, it is...The Creeping by Alexandra Sirowy!
Release Date: August 18, 2015
Publisher: Simon & Schuster Books for Young Readers
Number of Pages: 400
Synopsis:
"

Twelve years ago Stella and Jeanie vanished while picking strawberries. Stella returned minutes later, with no memory of what happened. Jeanie was never seen or heard from again.




Now Stella is seventeen, and she's over it. She's the lucky one who survived, and sure, the case is still cloaked in mystery—and it's her small town's ugly legacy—but Stella is focused on the coming summer. She's got a great best friend, a hookup with an irresistibly crooked smile, and two months of beach days stretching out before her.




Then along comes a corpse, a little girl who washes up in an ancient cemetery after a mudslide, and who has red hair just like Jeanie did. Suddenly memories of that haunting day begin to return, and when Stella discovers that other red-headed girls have gone missing as well, she begins to suspect that something sinister is at work.




And before the summer ends, Stella will learn the hard way that if you hunt for monsters, you will find them."
I'm currently reading this and I'm loving it! It is...The Accident Season by Moira Fowley-Doyle!
Release Date: August 18, 2015
Publisher: Kelly Dawson Books
Number of Pages: 288
Synopsis:
"It's the accident season, the same time every year. Bones break, skin tears, bruises bloom.


The accident season has been part of seventeen-year-old Cara's life for as long as she can remember. Towards the end of October, foreshadowed by the deaths of many relatives before them, Cara's family becomes inexplicably accident-prone. They banish knives to locked drawers, cover sharp table edges with padding, switch off electrical items - but injuries follow wherever they go, and the accident season becomes an ever-growing obsession and fear.




But why are they so cursed? And how can they break free?"
What new releases are you looking forward to?