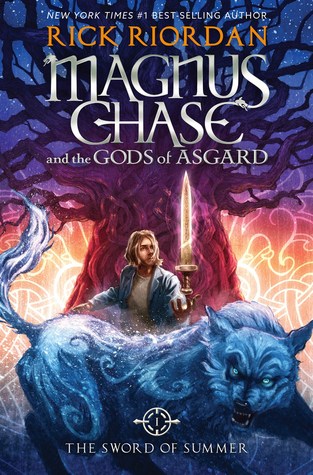 Author: Rick Riordan
Publisher: Disney-Hyperion Books
Number of Pages: 499
Synopsis:
"

Magnus Chase has always been a troubled kid. Since his mother's mysterious death, he's lived alone on the streets of Boston, surviving by his wits, keeping one step ahead of the police and the truant officers.


One day, he's tracked down by a man he's never met—a man his mother claimed was dangerous. The man tells him an impossible secret: Magnus is the son of a Norse god.
The Viking myths are true. The gods of Asgard are preparing for war. Trolls, giants and worse monsters are stirring for doomsday. To prevent Ragnarok, Magnus must search the Nine Worlds for a weapon that has been lost for thousands of years.
When an attack by fire giants forces him to choose between his own safety and the lives of hundreds of innocents, Magnus makes a fatal decision.


Sometimes, the only way to start a new life is to die . . .

"
I'm surprised it took me this long to read this book. I mean it came out a few months ago and usually when I buy a Rick Riordan book I read it right away, but that didn't happen this time. Never the less, I still really enjoyed this book! It made me literally laugh out loud and it was amazing. Can we just appreciate the dedication for 2 seconds?



"To Cassandra Clare

Thanks for letting me share the excellent name Magnus"
The plot was kind of predictable, mostly because it was just like the plot of The Lightning Thief. Kind of. Parts of it. But overall I really liked it because it was still an entirely different world than Percy Jackson. Kind of. There were parts that overlapped that had me like...
I really liked the characters too, but they did get a little dull sometimes. I got a little bored with Magnus and Sam at times, but I grew to like them. The other characters were all amazing and I loved them. Especially Blitzen and Hearthstone. They were awesome, and they reminded of me of Grover. Guys, that was like 2 Grovers. It doesn't get better than that.
Overall, I really enjoyed the book, but I think because I kept comparing it to the Percy Jackson series it didn't seem as amazing. It did make me laugh multiple times, so it was definitely worth it. I would recommend it to anyone who enjoys middle grade books and is looking for a books with humor.
Rating: 4.5 out of 5 stars!