Author: KC Lynn
Series: The Sweet Series #1
Number of Pages: N/A
Release Date: March 24, 2016
Goodreads
l
Amazon
Synopsis:
"Two cups of a protective, dirty talkin' alpha who loves his Cupcake.
One tablespoon of a sweet southern baker who loves her Sexy Sawyer, even when he's being a hothead.A slice of the past that shows up on their doorstep, turning their world upside down with a life-altering plea.
A dash of passion.
A pinch of heartache.
A sprinkle of hope.
Mix together in a large bowl, creating a difficult choice, a testing of one's faith, and a man who will do anything to protect his family—even if it means accepting a decision that could result in losing the one he loves most.
Bake at 350° for a rich serving of life with a love that could withstand anything. Even the unthinkable.
A timeless recipe that is sure to fill your heart with a generous helping of sweet love."
Sexy Sawyer and Grace are my favorite couple from KC Lynn...after Cade and Faith of course ;). Hearing that there was going to be another story about them was one of the best things. I definitely expecting this book to be about Grace's past.
"Mornin', Daddy," Hope greets me with her megawatt smile that always does funny shit to my chest no matter how many times I see it.

I fake a scowl. "Hey, you're not my Cupcake."

"Nope, it's me, your Shortcake."
Seeing the way that Sawyer and Grace's relationship has stayed strong after all this time and seeing how Sawyer is with Hope and Parker is absolutely beautiful. This story is really about the kindness of Grace and the strength that her and Sawyer's relationship hold. The way Sawyer reacted to the issue in this book is totally warranted by any husband who completely adores his wife, and I love how Sawyer was able to put away his own worry and panic to support Grace.
The book, in my opinion, was a little too short but that just means that I'd be willing to read a story about Sawyer and Grace that was a million pages long. I do, however, wished that we got a little more from Parker and Hope. The kids were definitely there but they weren't as prevalent as I hoped they would be. There were quite a few cute Hope moments, though.
"What are you making?" Jaxson asks."I'm making', y'all a special pie. It's gonna be called Hero Pie, because y'all are heroes and I'm putting your favorites in it." Yep, there's no girl like my Shortcake.
The thing is that Hope probably doesn't even know how big of heroes that these guys are since she is only four years old. She is just so adorable! My favorite parts of the book was when Kayla and Grace are talking about Beckett and Hope. I really, REALLY hope these two get a book because they are so flippin' cute!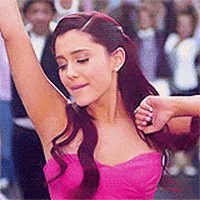 Seriously...my emotions can't handle how cute these four year olds are!
This book definitely pulls at a girl's heartstrings, especially if you've read all of KC's books and have fallen in love with all these characters. There were parts in this book where I wanted to rip a person apart I was so fucking mad, and then there was the complete opposite where I was giggling like a little girl because I was so happy. I really fell more and more in love with these characters as I kept reading.
"The easiest thing I've ever done in my life is love you, Grace."
I would definitely recommend that you read this book if you read Sweet Temptation by KC Lynn, the first book to Sawyer and Grace's story. By reading this you even get an insight to the next Sweet novella which is Sam's story.
Rating: 4 out of 5 stars!
*A copy of the novella was provided by the author and tour host for an honest review.
K.C. Lynn is a small town girl living in Western Canada. She married her high school sweetheart and they have four amazing children: two lovely girls and a set of handsome twin boys. It was her love for romance books that gave K.C. the courage to sit down and write her own novel.
When she is not in her writing cave, pounding out new characters and stories, she can be found living between the pages of a book, meeting new tattooed, hot alpha males with very big…Hearts.
4 - $25 Amazon Gift Cards