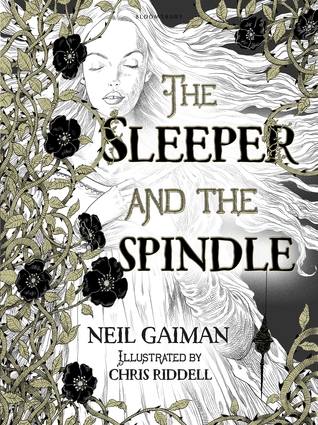 Author: Neil Gaiman
Illustrator: Chris Riddell
Publisher:

Bloomsbury Publishing Plc
Number of Pages: 72
Synopsis:
"

A thrillingly reimagined fairy tale from the truly magical combination of author Neil Gaiman and illustrator Chris Riddell – weaving together a sort-of Snow White and an almost Sleeping Beauty with a thread of dark magic, which will hold readers spellbound from start to finish.




On the eve of her wedding, a young queen sets out to rescue a princess from an enchantment. She casts aside her fine wedding clothes, takes her chain mail and her sword and follows her brave dwarf retainers into the tunnels under the mountain towards the sleeping kingdom. This queen will decide her own future – and the princess who needs rescuing is not quite what she seems. Twisting together the familiar and the new, this perfectly delicious, captivating and darkly funny tale shows its creators at the peak of their talents.




Lavishly produced, packed with glorious Chris Riddell illustrations enhanced with metallic ink, this is a spectacular and magical gift

"
I picked this book up from the library because the cover was really pretty, and it was short so I knew it wouldn't take me long to read. But, when I started reading I was very surprised about how much I actually did enjoy it.
The illustrations never disappointed, and the plot was very interesting. The story is an adaptation of Sleeping Beauty, but as the story progresses you see just how different it actually is. The ending was definitely my favorite part, and I would encourage everyone to pick up this book if they can. It won't take long, and you will definitely enjoy it.
Rating: 4 out of 5 stars!