Can I just say how PSYCHED I am for February?! There are SOOOO many new books coming out this month and then on the 20th I turned 18...like WHAT? How am I going to be an adult in 2 weeks? Either way, this week I've got five books whose releases I am ecstatic about.
The first book is being released tomorrow, it is...Beautiful Burn by Jamie McGuire!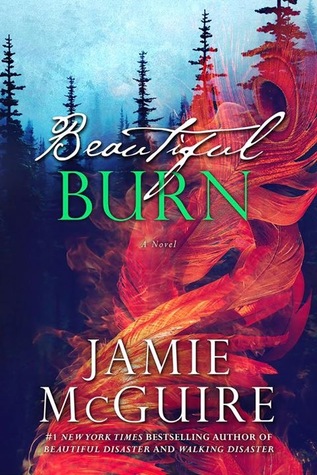 Release Date: January 31, 2016
Publisher: Self-Published
"

Fresh out of college, Ellison Edson has fallen through the cracks of rock bottom. While staying in her family's vacation home in Colorado, her behavior has finally gained the attention of her parents—but not in the way she hoped. Cut off from the millions she's always taken for granted, and left alone to fend for herself, Ellie spirals further out of control, making a mistake she can't take back.

Like his twin brother Taylor, Tyler Maddox is a member of the Alpine Hotshots, fighting wildland fires on the frontline. As arrogant as he is charming, Tyler's nomadic lifestyle makes it easy to contain his relationships to one night. When he meets Ellie at a local party during off-season, her extreme personality and dismissive attitude fascinates him at first, but as his feelings deepen, Tyler realizes that the crippling inner demons of the woman he loves might be the strongest enemy any Maddox has ever faced."
I feel like it has been forever since I read the last book, Beautiful Sacrifice. I was sure that I had missed a book when I saw this one was coming out. I am so ready to read the last Maddox Brothers book!
This book is one that I'm sure every YA fan is psyched for, it is...Stars Above by Marissa Meyer!
Release Date: February 2, 2016
"

The enchantment continues....

The universe of the Lunar Chronicles holds stories—and secrets—that are wondrous, vicious, and romantic. How did Cinder first arrive in New Beijing? How did the brooding soldier Wolf transform from young man to killer? When did Princess Winter and the palace guard Jacin realize their destinies?

With nine stories—

five

of which have never before been published—and an exclusive never-before-seen excerpt from Marissa Meyer's upcoming novel,

Heartless

, about the Queen of Hearts from Alice in Wonderland, Stars Above is essential for fans of the bestselling and beloved Lunar Chronicles.

--

The Little Android

: A retelling of Hans Christian Andersen's "The Little Mermaid," set in the world of The Lunar Chronicles.

Glitches

: In this prequel to Cinder, we see the results of the plague play out, and the emotional toll it takes on Cinder. Something that may, or may not, be a glitch….

The Queen's Army

: In this prequel to Scarlet, we're introduced to the army Queen Levana is building, and one soldier in particular who will do anything to keep from becoming the monster they want him to be.

Carswell's Guide to Being Lucky

: Thirteen-year-old Carswell Thorne has big plans involving a Rampion spaceship and a no-return trip out of Los Angeles.

The Keeper

: A prequel to the Lunar Chronicles, showing a young Scarlet and how Princess Selene came into the care of Michelle Benoit.

After Sunshine Passes By

: In this prequel to Cress, we see how a nine-year-old Cress ended up alone on a satellite, spying on Earth for Luna.

The Princess and the Guard

: In this prequel to Winter, we see a game called The Princess

The Mechanic

: In this prequel to Cinder, we see Kai and Cinder's first meeting from Kai's perspective.

Something Old, Something New

: In this epilogue to Winter, friends gather for the wedding of the century.."
I am so excited for this book! I rarely get to read novellas since they are mostly e-book only and I don't buy e-books unless I have to. Now I can finally read all these amazing stories!
I just discovered this author and I finished this book last night, it is...Distraction by Aurora Rose Reynolds!
Release Date: February 2, 2016
Publisher: Self-Published
Number of Pages: N/A
Synopsis:
"

Distraction: The great intensity, novelty, or attractiveness of something other than the object of attention.

Sven is a man who takes pride in his ability to separate himself from his emotions. He's a man who knows who he is and where he's going in life, a man who needs no one, because needing someone, anyone, is a weakness.

His past taught him love isn't enough.

Maggie wants the happily ever after, but has never picked the right men, or stuck around long enough, to build a forever. It's always been easier to get out early, before emotions make things messy.

When Maggie wakes up naked in Sven's bed, with no memory of the night before, these two must be honest about their feelings and face their fears, so they can build a future together.

Will love be enough for them to get their happy ending together, or will a threat from outside strike them down before they ever have a chance?"
Aurora Rose Reynolds is slowly becoming my favorite adult author. She writes the most amazing alpha males :D I recieved an ARC of this and the review is going up Monday! It was an amazing book so keep an eye out for this one!
I'm not big on sci-fi or fantasy but this is one I have to check out. Starflight by Melissa Landers!
Release Date: February 2, 2016
Publisher: Disney-Hyperion
Number of Pages: 320
Synopsis:
"

Life in the outer realm is a lawless, dirty, hard existence, and Solara Brooks is hungry for it. Just out of the orphanage, she needs a fresh start in a place where nobody cares about the engine grease beneath her fingernails or the felony tattoos across her knuckles. She's so desperate to reach the realm that she's willing to indenture herself to Doran Spaulding, the rich and popular quarterback who made her life miserable all through high school, in exchange for passage aboard the spaceliner Zenith.

When a twist of fate lands them instead on the Banshee, a vessel of dubious repute, Doran learns he's been framed on Earth for conspiracy. As he pursues a set of mysterious coordinates rumored to hold the key to clearing his name, he and Solara must get past their enmity to work together and evade those out for their arrest. Life on the Banshee may be tumultuous, but as Solara and Doran are forced to question everything they once believed about their world—and each other—the ship becomes home, and the eccentric crew family. But what Solara and Doran discover on the mysterious Planet X has the power to not only alter their lives, but the existence of everyone in the universe..."
The concept and plot are just so intriguing that this is one that I have to check out. Some mentioned there was space pirates so how could I not want to read this book?
The last book of this week's releases is...Assassin's Heart by Sarah Aheirs!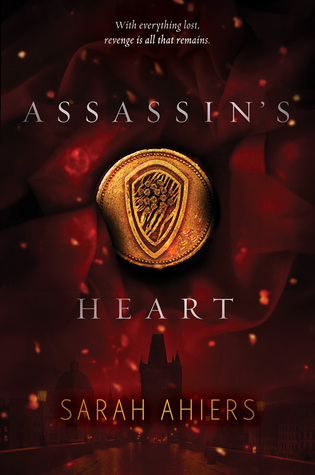 Release Date: February 2, 2016
Publisher: HarperTeen
Number of Pages: 400
Synopsis:
"

In the kingdom of Lovero, nine rival Families of assassins lawfully kill people for a price. As a highly skilled member of one of these powerful clans, seventeen-year-old Lea Saldana has always trusted in the strength of her Family. Until she awakens to find them murdered and her home in flames. The Da Vias, the Saldanas' biggest enemy, must be responsible—and Lea should have seen it coming. But her secret relationship with the Da Vias' son, Val, has clouded her otherwise killer instinct—and given the Da Vias more reason than ever to take her Family down.




Racked with guilt and shattered over Val's probable betrayal, Lea sets out to even the score, with her heart set on retaliation and only one thought clear in her mind: make the Da Vias pay.




With shades of The Godfather and Romeo and Juliet, this richly imagined fantasy from debut author Sarah Ahiers is a story of love, lies, and the ultimate vengeance."
Another fantasy novel but it sounds so good! I also am in love with the cover.
What new releases are you excited for?