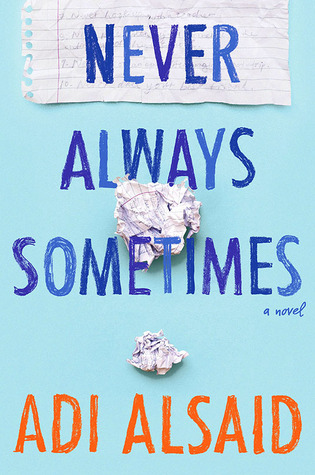 Author: Adi Alsaid
Publisher: Harlequin Teen
Number of Pages: 320
Synopsis:
"

Never date your best friend.




Always be original.




Sometimes rules are meant to be broken.




Best friends Dave and Julia were determined to never be cliché high school kids—the ones who sit at the same lunch table every day, dissecting the drama from homeroom and plotting their campaigns for prom king and queen. They even wrote their own Never List of everything they vowed they'd never, ever do in high school.




Some of the rules have been easy to follow, like #5, never dye your hair a color of the rainbow, or #7, never hook up with a teacher. But Dave has a secret: he's broken rule #8, never pine silently after someone for the entirety of high school. It's either that or break rule #10, never date your best friend. Dave has loved Julia for as long as he can remember.




Julia is beautiful, wild and impetuous. So when she suggests they do every Never on the list, Dave is happy to play along. He even dyes his hair an unfortunate shade of green. It starts as a joke, but then a funny thing happens: Dave and Julia discover that by skipping the clichés, they've actually been missing out on high school. And maybe even on love.

"
So, I picked this book up from the library because everyone has loved Adi Alsaid's previous book, Let's Get Lost, and I had only heard good things about this too. And when I first started reading I freaking loved the book. I read the first half in one night before I realized that it was a school night, and I had to go sleep.
The premise of this book was really interesting, and I think pretty relatable. I think we all go through moments in our lives, not necessarily high school, where we don't want to do something because it would be too cliché. Well, personally I believe they are clichés for a reason, and it's okay to go through with them.
I think my favorite part of the book was the friendship aspect between Dave and Julia. The book is split into three parts: the first is Dave's point of view, the second Julia's, and the third a mix of both Dave and Julia. I would say that I enjoyed the first and second parts of the book the best because I started to find everything a little annoying after that. But, I wouldn't say the rest of the book was bad, just not as capturing.
I think the main reason I started feeling a little off about this book was the directions the ending was going, and I was getting annoyed with the characters. That's all I'm going to say about it because this is a spoiler free review.
Overall, I really did enjoy the book. It was definitely a good YA contemporary novel, so if that is a genre that interests you I would definitely recommend this book.
Rating: 4 out of 5 stars!