So 2015 was probably the worst year for this blog. With me being in the middle of my junior year and then applying to college the beginning of my senior year there has just been no time for myself. I haven't read all that much either but there were some books I read that I didn't get to review...and they were books that I was supposed to :/ . So I decided to start 2016 on a fresh start.
Author: J.L. Berg
Publisher: Grand Central Publishing
Number of Pages: 384
Synopsis:
"She can forgive, but can she forget?Some days, Everly still thinks she sees him. In the food court at the mall, or in a car speeding past as the light changes. It only lasts a second, but when it happens, she slips back to a time when she was ruled-and nearly ruined-by August Kincaid. And it doesn't matter that she's moved on, that she's about to marry another man. In those moments the only thing she can do to regain control is take a deep breath and remind herself that August can't hurt her-because he's in a coma. Except that he's not anymore.August is awake. With no memories, he sets out to solve the mystery of his lost life. He unearths a photograph of a beautiful redhead named Everly and knows instinctively that she's the key. But when he finds her, the August she describes is more monster than man.
Tortured by the thought of having hurt her, August wants only to become the man Everly deserves. As the new August emerges, Everly glimpses the person she first fell in love with. But can she trust that this August is real? When the final secret of their shared past is revealed, one of them will make a choice that changes their future forever . . ."
I had so many problems with this book, even when it started. Everly is with this guy that loves her unconditionally even though she is still in love with August and then discards him for August, and it is all just so frustrating. Even when I continued with the book there were just so many times that I just wanted to punch Everly in the face over and over again. She is exactly the type of person I just absolutely despise. She is stuck in this position where she is constantly hurting people and it honestly doesn't seem like she cares. I understand she has been though a lot but that is not an excuse to continually hurt people over and over again.
Then there was Ryan...oh holy lord was he an amazing character...until the end. I'm gunna leave it at that.
August is a prick. I loved him through the majority of the book but one of the decisions he made just pissed me off so much that I had to put the book down for an entire week before I convinced myself that I had to finish it.
To be honest, a lot of people did enjoy this book. The book is beautifully written in terms of style but I can't get behind the characters or the plot. It really gutted me because I ADORE J.L. Berg's Ready series, so I jumped on the opportunity to read this book and I was so utterly disappointed. I do think that Everly was the main reason I really disliked this book. If she wasn't herself than maybe I could have enjoyed it a lot more. One this is clear, I will not be reading the next book.
Although I will applause whoever made the cover. It is definitely a favorite of 2015.
Rating: 1 out of 5 stars
*A copy of this book was provided by the publisher for an honest review.
Author: Chanel Cleeton
Publisher: Intermix
Number of Pages: 304
Synopsis:
"

Kate Reynolds has just graduated from college and is determined to make it on her own. Her job as a junior political analyst at the CIA is a dream come true and the perfect opportunity to find answers about the night that's plagued her for four years—the night she lost her fiancé, Matt, on a Special Forces mission in Afghanistan. Kate's consumed with uncovering the truth and avenging the man she loved and lost, even if it means risking her own life to prove that his death wasn't an accident.




When she gets too close to discovering what happened that fateful night and danger arrives on her doorstep, Kate's stunned by the man who comes to her rescue. Together, they begin to dig for the truth, fighting to stay alive as they're dragged down into a world of secrets and lies. But when the threat hits close to home, Kate must choose between vengeance and a future with the man who's ignited a fire inside her that she thought died long ago."
I swear Chanel Cleeton writes books the most amazing books. Never have I been so happy with an author. Cleeton writes books that readers swear can't be beat, and with every book she continues to prove them wrong. This is definitely my favorite of her books but I will probably be saying that about her next release.
Kate is definitely my girl. I have never loved a heroine the way I loved her. I'm constantly obsessed with the male characters but Cleeton wrote a female character that I'm obsessed with. The things I would do for a sequel to Kate's story.
One of the reasons I waited to write this review was because I found it so hard to write this review without spoilers. This story is just filled with so much material that I want to talk about but I can't because it would spoil so much. I will say that Kate's story is very different from what I expected. She continued to surprise me throughout the entire novel as did the story itself. There are no "predictable" moments in this book. Really, this series is very unpredictable. This book changed the way I thought about this series. This isn't another New Adult romance novel that has some serious moments. This entire series could be a thriller. I seriously wonder whether the author herself was expecting the series to go in this direction because there is so much contrast between the first book and Falling for Danger.
I definitely recommend reading this series or any of Cleeton's books. She is one of my favorite authors and she continues to exceed my expectations. This book is a must for New Adult romance fans.
Rating: 5 out of 5 stars!!
*A copy of this book was provided by the publisher for an honest review.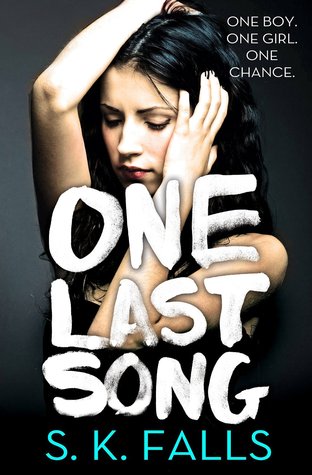 Author: S.K. Falls
Publisher: Forever Yours
Number of Pages: 336
Synopsis:
"I was seven when I swallowed my first needle.


My mom freaked out and rushed me to the emergency room.




She stayed by my side all night.




I never wanted it to end.




When you spend your whole life feeling invisible-when your parents care more about deals and deadlines than they do about you-you find ways of making people take notice. Little things at first. Then bigger. It's scary how fast it grows. Then one day something happens that makes you want to stop. To get better. To

be

better. And for the first time, you understand what it's like to feel whole, happy . . . loved. For the first time, you love someone back.




For me, that someone was Drew."
One thing I have to compliment S.K. Falls for is writing about such a original book about a topic that is foreign to so many people.
I do have to say that this is a very difficult book to read because of the things the main character, Saylor, does to herself. The writing is absolutely beautiful and the author is very talented but I could feel my mind urging me to put down the book so many times while reading this. Saylor has
Munchausen Syndrome, an illness that compels a person to make themselves sick so some of the things she does is very graphic and disturbing.
When I first starting reading the book I thought Saylor was just trying to get attention which was part of the illness but nonetheless it is because of her illness. I did feel for her but there were definitely times where I wanted to smack her or locked her in a room.
This book is definitely not for people who get quesy or sick easily. It is very hard stomach. It is definitely a book that I read and then pushed to the back of my mind. It is not something I want to be thinking about because the book was so hard to read in the first place that reading it a second time would be impossible.
S.K. Falls did a beautiful job writing the book and coming up with characters so if you think you can handle the graphic parts then I highly suggest reading it. I read it in parts rather that trying to wrap my head around it at one time.
Rating: 3 out of 5 stars
*A copy of this book was provided by the publisher and Netgalley for an honest review.


Author: K.C. Lynn
Publisher: Self-Published
Number of Pages: 263
Synopsis:
"

She saw in him what no one else could see.




He found in her what he could never find.




One moment changed everything but, even with a break in time, their connection could never be severed.




In the beginning he may have been her salvation, but in the end she will be his redemption. "
Okay, I'm just do this before I start this review so I can actually concentrate on writing this review... Logan is such a hottie and it is really hard to concentrate on anything else (unless it is Cade :P ) so I'm just say this know. Logan is amazing. He said and did so many things that made me melt right where I was sitting and I would just read those lines over and over and over again. He is definitely my second favorite of K.C.'s guys, the first being Cade. :D
K.C. Lynn is a go to author. Whenever I want to reread something or I want something that I just want to disappear into I read K.C.'s books. Her books are books that I pick up the second I get a chance. The second I found out that I could read this book I did.
Anna is someone we met in K.C.'s first book, Fighting Temptation, and we fell in love with. She was the sweet kid who went through something horrible but still was an amazing person. We ended Resisting Temptation with Logan, Anna's boyfriend, being arrested for murder and this is their story.
Anna is such an rich character (not money rich), she just has so many great qualities and some that aren't so great. She's human and she is definitely a character that makes me want to change so I can be a better character. Anna is genuinely an selfless person which is seen from her relationship with Sarge, who I might add is freaking hilarious.
I did feel that the book was a bit short and it was rushed towards the end where the climax occurred, but other than that I found the book to perfect.
K.C. did a fantastic job writing Anna and Logan's story and I couldn't have been happier. The ending definitely made me want to bawl my eyes out, this book was such a tearjerker! I highly recommend reading this book and the series. All the guys that K.C. writes about are the type of guys I wish there were more of in this world. I can't really see someone not enjoying her books.
Rating: 4 out of 5 stars!
*A copy of this book was provided by the author for an honest review.
There are 4 more books that I still have to review so look out for that soon!