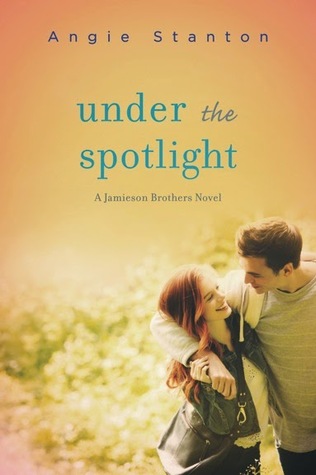 Author: Angie Stanton
Publisher: HarperTeen
Number of Pages: 400
Synopsis:
"

After an embarrassing stint on a reality-TV music competition years ago, Riley vowed never to sing again. Now she's behind the scenes, working at the prestigious Sound Sync recording studio, and life is looking up. But then Garrett Jamieson, the oldest brother in the famous Jamieson brothers band, crashes into her world.




Garrett has hit rock bottom, and he is desperate to reinvent himself. After calling in a few favors, he ends up working at Sound Sync to learn the ropes of record producing from the industry's best. And he can't believe his luck when he discovers that Riley has been keeping a secret—she is an amazing singer. By producing her album, he's sure to top the record charts again. But Garrett is forced to use every trick in his arsenal to persuade the sassy girl to record.




Riley refuses to sing—or even entertain the thought of it—and sparks fly as Garrett finally meets his match. But in the heat of the moment, one stolen kiss changes everything. Will Riley be the first person to finally rein Garrett in, or will Garrett succeed in getting Riley back under the spotlight?"
This book is massively adorable. I absolutely adore this series and finally getting the story of the last Jamieson book was amazing. Angie Stanton did an amazing job on the final book in the series!
Throughout the whole series Garrett just infuriates the readers but this book it did...not change. You definitely don't hate him now but there were definitely moments where you questioned what the hell he was doing. That's just part of his charm though..I guess.
Riley I liked a lot more. She's the down to Earth type of girl that I would love to be friends with.
Angie Stanton's writing is definitely improving with every book that she writes which I absolutely adore. I was ecstatic when I found out that Garrett's book was definitely going to happen, he was always the mysterious one. Her writing was flawless in this book and I just can't wait until her next book.
If you enjoyed the first two books then I definitely recommend this one! I do wish we got to see more of Peter and Adam but otherwise the book was amazing!
Rating: 4 out of 5 stars!
Angie Stanton never planned on writing books—she wanted to be a Rockette. However, growing up in rural America with her brothers' 4-H pigs as pets, she found that dance didn't quite work out. Instead, she became an avid daydreamer. After years of perfecting stories in her head, she began to write them down, and the rest is history. When not writing, she loves watching natural disaster movies, going to Broadway musicals, and dipping French fries in chocolate shakes.
a Rafflecopter giveaway