So I've gotten a couple of books behind on reviews that I would like to post on this blog so I figured I would make them short and to the point and put them all together!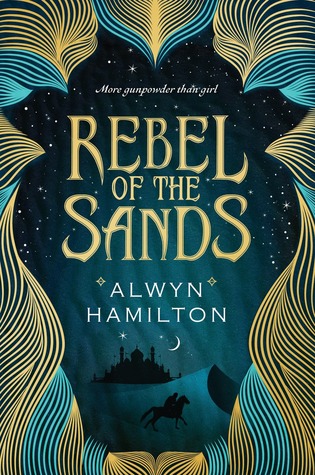 Author: Alywn Hamilton
Publisher: Viking Books for Young Reads
Series: Rebel of the Sands #1
Number of Pages: 320
Goodreads l Amazon
Synopsis:
"

She's more gunpowder than girl—and the fate of the desert lies in her hands.




Mortals rule the desert nation of Miraji, but mystical beasts still roam the wild and barren wastes, and rumor has it that somewhere, djinni still practice their magic. But there's nothing mystical or magical about Dustwalk, the dead-end town that Amani can't wait to escape from.




Destined to wind up "wed or dead," Amani's counting on her sharpshooting skills to get her out of Dustwalk. When she meets Jin, a mysterious and devastatingly handsome foreigner, in a shooting contest, she figures he's the perfect escape route. But in all her years spent dreaming of leaving home, she never imagined she'd gallop away on a mythical horse, fleeing the murderous Sultan's army, with a fugitive who's wanted for treason. And she'd never have predicted she'd fall in love with him... or that he'd help her unlock the powerful truth of who she really is."
These are the type of books that make me really freaking happy that I read YA. I loved the characterization and plot in this book. The writing style is so seamless and has such amazing description that it really does take you to a place where you are surrounded by mountains while you're running through sand. I felt that the book also really brought some diversity to the YA platform. We strive for diversity but often only find it in secondary and supporting characters while the main characters still lack the diversity of its readers.
I love a strong female character and Amani is definitely one of them. Some might disagree because she accepts Jin's help but everyone needs help, even strong female characters, and Amani wasn't any less strengthful (is that a word??) because she accepted help. It just shows that no everyone is invincible. Amani's main goal was to save herself and she did that instead of just accepting her fate as many women, unfortunately, do.
Rating: 4.5 out of 5 stars!!
Series: Acts of Honor #3
Number of Pages: 255
Goodreads l Amazon
Synopsis:
"She's beautiful yet scarred beyond repair.
He's powerful and lethal, in and out of the ring.
One act of kindness brought Sophie Parish far more danger than she could have ever imagined. Now she's on the run, leaving behind her family and the only dream she's ever had.
Retired EFC fighter Kolan Slade's life has been one endless battle after another. He has a dark past with an even darker desire—the only one he's ever known.
Until he meets Sophie.
Intrigued by her raw beauty and the secrets she's trying to hide, Kolan craves to know who she is and what she's running from.
Protecting her becomes his obsession and he'll sacrifice it all to save her. But in the end her love will have him questioning himself and everything he thought he knew."
This book came out exactly 4 days ago and I've already read it twice. Kolan and Sophie just bring back this sense of giddiness that the first three boys of the Men of Honor gave me while reading their books. I loved all the other books that KC Lynn has written but the feelings that those boys gave you were something different entirely.
Kolan and Sophie just have this relationship that is almost like a "love at first sight" kind of relationship and to see someone like Kolan be in that is just amazing. I knew Kolan was going to be someone that I loved just from reading about him in An Act of Salvation.
KC Lynn is a must read for anyone who loves New Adult alpha males. She is definitely one of my top two!
Rating: 5 out of 5 stars!
*A copy of this book was provided by the author for an honest review.
Author: Liz Czukas
Publisher: Harper Teen
Number of Pages: 336
Goodreads l Amazon
Synopsis:
"

Despite what her name might suggest, Heart has zero interest in complicated romance. So when her brilliant plan to go to prom with a group of friends is disrupted by two surprise invites, Heart knows there's only one drama-free solution: flip a coin.




Heads: The jock. He might spend all night staring at his ex or throw up in the limo, but how bad can her brother's best friend really be?




Tails: The theater geek...with a secret. What could be better than a guy who shares all Heart's interests--even if he wants to share all his feelings?




Heart's simple coin flip has somehow given her the chance to live out both dates. But where her prom night ends up might be the most surprising thing of all..."
I really wanted to like this book but I really couldn't. I found Heart to be kind of annoying, especially with the whole plot of the book. The heads aspect of it really made Heart seem like a huge pushover while the tails kind of made her seem conceited. Although, I definitely liked the tails option better.
I totally understand that this book was supposed to be a fast, funny read but I just couldn't seem to understand how one person could be that unfortunate and just put up with it all. I had just gone to my prom when I decided to read this book.
By the end of the book I liked the plot, but not so much the character, and then the ending came. It just ended. I wanted a little more insight into her actual prom night rather than the scenarios she came up with in her head.
Rating: 3 out of 5 stars