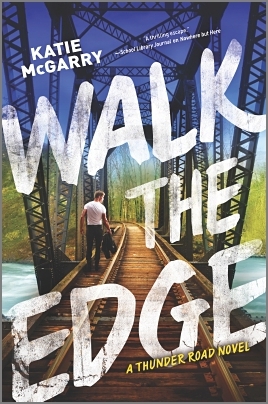 Author: Katie McGarry
Publisher: Harlequin TEEN
Number of Pages: 426
Synopsis:
"One moment of recklessness will change their worlds.

Smart. Responsible. That's seventeen-year-old Breanna's role in her large family, and heaven forbid she put a toe out of line. Until one night of shockingly un-Breanna-like behavior puts her into a vicious cyber-bully's line of fire—and brings fellow senior Thomas "Razor" Turner into her life.




Razor lives for the Reign of Terror motorcycle club, and good girls like Breanna just don't belong. But when he learns she's being blackmailed over a compromising picture of the two of them—a picture that turns one unexpected and beautiful moment into ugliness—he knows it's time to step outside the rules.




And so they make a pact: he'll help her track down her blackmailer, and in return she'll help him seek answers to the mystery that's haunted him—one that not even his club brothers have been willing to discuss. But the more time they spend together, the more their feelings grow. And suddenly they're both walking the edge of discovering who they really are, what they want, and where they're going from here. "
Katie McGarry is one of my favorite authors, and this book definitely didn't disappoint. I loved the first book, and when I saw this book at the library I had to pick it up straight away. Then, instead of studying for exams, I read this book in one day.
Razor and Breanna's story was so freaking adorable, and I loved it. Their story wasn't as heartfelt as Oz and Emily's but I still really enjoyed it. Razor was almost the complete opposite of Breanna, but they fit really well and were adorable. I read it really quickly, but I didn't feel like anything was too rushed in their relationship either which I feel can be an issue in contemporary books sometimes.
If you have read any previous Katie McGarry books, then I would recommending this book and series as well. It follows the same pattern of being a contemporary, but the characters have to go through a lot of personal issues. For Razor and Breanna their issues were both linked to their families. Razor particularly was dealing with the death of his mom and the affect it had on him and his dad, and for Breanna it was connecting with everyone else due to her numerous siblings.
Overall, I really enjoyed the book as always. If anyone has previously read any Katie McGarry books and enjoyed them I would definitely recommend continuing on with this series.
Rating: 5 out of 5 stars!