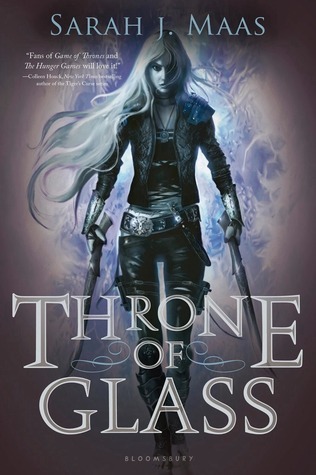 Author: Sarah J Maas
Publisher: Bloomsbury USA
Children
Number of Pages: 404
Goodreads l Amazon
Synopsis:
"

In a land without magic, where the king rules with an iron hand, an assassin is summoned to the castle. She comes not to kill the king, but to win her freedom. If she defeats twenty-three killers, thieves, and warriors in a competition, she is released from prison to serve as the king's champion. Her name is Celaena Sardothien.




The Crown Prince will provoke her. The Captain of the Guard will protect her. But something evil dwells in the castle of glass--and it's there to kill. When her competitors start dying one by one, Celaena's fight for freedom becomes a fight for survival, and a desperate quest to root out the evil before it destroys her world."
I have heard load and loads of amazing things about this book, but since I'm not that big of a fan of fantasy I've held back. Man do I hate myself for that decision. I really, REALLY enjoyed this book. It definitely started off slow for me but by the end I was captivated.
Celaena is a total badass and I love that about her, but at the same time she's not invincible. She goes through things just like us other girls. I have to applause Sarah J Mass for actually having a female girl go through her period. You don't see that in books very often...in fact its pretty rare. This little tiny fact brought Celaena to a whole different level where she was even more human than she originally was in my head.
"My name is Celaena Sardothien. But it makes no difference if my name's Celaena or Lillian or Bitch, because I'd still beat you, no matter what you call me."
Celaena also doesn't just fall into the arms of Prince Dorian of Chaol, she realizes that she is here fighting for her life. She's not here so she can simply fight in this competition, walk away, and then have a romance. No--she has to concentrate on this competition and training after all her time in this concentration camp.
And speaking of this whole love triangle--it isn't all that present in the novel. It's subtle, because we all know that there are some YA books nowadays that try to force a romance into a novel and it sucks. Not all books need romance! Sarah J Maas made it so the romance blended into the plot line seamlessly. I loved it. Also, TEAM DORIAN. I don't understand y'all Chaol fans. DORIAN IS A PRINCE. DORIAN LOVES TO READ. DORIAN BRINGS HER CANDY. What more could you want?!
Another thing that I loved about this book is the writing. Holy fuck...I truly understand why people love this series so much. This is the first book where I took post-its and marked every line that I loved. I know a lot of people do that but I don't.
"Still, the image haunted his dreams throughout the night: a lovely girl gazing at the stars, and the stars who gazed back."
That is my favorite line in the entire book. It is just so beautiful.
"What's the point in having a heart if you don't use it to spare others from the harsh judgments of your mind?"
This is the line that moved me the most. This book is so well-written and the plot is just fantastic. I am not a fan of fantasy.
I was hesitant to read this at first and I kept putting it down but when I actually opened myself up to it, I ended up reading the majority of it in one sitting.
I can read it but it definitely is not my favorite, so finding one that I really, really enjoy is difficult, but Sarah J Maas has definitely convinced me to pick up and love her books.
Rating: 4.5 out of 5 stars!!