I just realized that I never reviewed both of these books, and I read them a few months ago so... Here we go!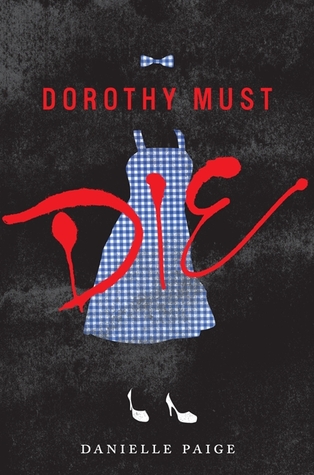 Author: Danielle Paige
Publisher: HarperCollins
Number of Pages: 452
Synopsis:
"I didn't ask for any of this. I didn't ask to be some kind of hero.
But when your whole life gets swept up by a tornado - taking you with it - you have no choice but to go along, you know?
Sure, I've read the books. I've seen the movies. I know the song about the rainbow and the happy little bluebirds. But I never expected Oz to look like this. To be a place where Good Witches can't be trusted, Wicked Witches may just be the good guys, and winged monkeys can be executed for acts of rebellion. There's still a yellow brick road - but even that's crumbling.
What happened? Dorothy.
They say she found a way to come back to Oz. They say she seized power and the power went to her head. And now no one is safe.
My name is Amy Gumm - and I'm the other girl from Kansas.
I've been recruited by the Revolutionary Order of the Wicked.
I've been trained to fight.
And I have a mission."
Can we just take a minute to appreciate that cover? And I mean the plot? It's literally just shouting, "READ ME NOW!" And it was definitely worth the read.
The plot was really different, and I thoroughly enjoyed it. I didn't really remember much about the Wizard of Oz when I started reading it, but everyone knows the general character outline. Yeah, the author didn't follow that at all. And it was awesome. I started hating everyone I was supposed to love which really kept me on my toes throughout the entire book.
I wasn't too happy about the characters though. I felt disconnected from some of them, especially Amy. But, for a debut book I think the author did really well. Also, the flow of the plot pretty much counteracted that because the plot kind of helped develop the characters anyways.
Also, the romance part of it was confusing. I still have no idea what was going on. Or is going on. What? Why? Ugh.
Overall, I loved the book but it wasn't punch me in the gut amazing. I would recommend this to anyone looking for a different type of YA novel.
Rating: 4 out of 5 stars!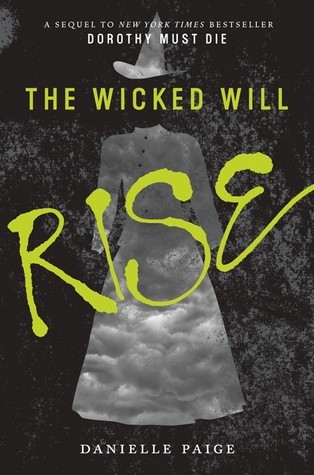 Author: Danielle Paige
Publisher: HarperCollins
Number of Pages:
Synopsis:
"

In this dark, high-octane sequel to the

New York Times

bestselling

Dorothy Must Die

, Amy Gumm must do everything in her power to kill Dorothy and free Oz.




To make Oz a free land again, Amy Gumm was given a mission: remove the Tin Woodman's heart, steal the Scarecrow's brain, take the Lion's courage, and then Dorothy must die...




But Dorothy still lives. Now the Revolutionary Order of the Wicked has vanished, and mysterious Princess Ozma might be Amy's only ally. As Amy learns the truth about her mission, she realizes that she's only just scratched the surface of Oz's past—and that Kansas, the home she couldn't wait to leave behind, may also be in danger. In a place where the line between good and evil shifts with just a strong gust of wind, who can Amy trust—and who is really Wicked?"
When I picked this book up from Target the first thought that came to my head was, "Why is this so short?" And the first thought that came to my head when I finished the book was,
"Why was this so short?"
Seriously. Why?
I mean I still liked the book, not as much as I liked the first book, but I still liked it. I just wished there was more to it. It felt incomplete and kind of unnecessary. The plot was still intense and it kept me on my toes, but I didn't fell like it lived up to the first book. It felt almost like a filler book that was just there to introduce the third book (which I cannot wait for!).
Also, the romance. What? Why? Ugh.
Overall, the book was good, just not as good as I had wanted it to be. But, if you read the first book I would definitely recommend continuing on with the series.
Rating: 3 out of 5 stars!