Hey everyone I am going to start writing mini reviews and DNF (did-not-finish) reviews so I can keep up with reviews. I also have a tendency to not review books that I didn't really enjoy or didn't finish. I know that a lot of you are expecting reviews of less then stellar books and you deserve my opinion.
DNF Reviews: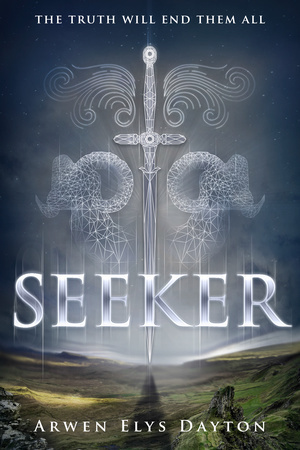 Author: Arwen Elys Dayton
Publisher: Delacorte Books for Young Readers
Number of Pages: 448
Synopsis:
"

Quin Kincaid has been put through years of brutal training for what she

thinks is the noble purpose of becoming a revered 'Seeker'.
Only when it's too late does she discover she will be using her new-found knowledge and training to become an assassin. Quin's new role will take her around the globe, from a remote estate in Scotland to a bustling, futuristic Hong Kong where the past she thought she had escaped will finally catch up with her."
I'm not really a fan of high fantasy...well, I don't read high fantasy at all for the most part because I just don't enjoy it. I don't mind watching high fantasy movies or TV series but books I just can't read them. I recieved Seeker for review and there was a lot of promoting going on for it so I decided to give it a chance.
It reinforced my thoughts on high fantasy, I don't enjoy it. The love triangle in this story was also a bit creepy. It was a huge turn off and I just couldn't deal with it. The beginning is very vague about practically everything and therefore it didn't keep my interest.
Mini Reviews:
Author: Anna Katmore
Publisher: Self-Published
Number of Pages: 238
Synopsis:
"What if you had to do the one thing you hated most to get the guy you loved to notice you?


Ryan Hunter's parties are legend. And tonight she's going to be there.




Lisa Matthews anticipates the return of her best friend and only love since kindergarten kindle reverse from soccer camp. But when Tony finally shows up, his mind is more focused on another girl. And worse, she's a soccer player. Fighting for the attention Lisa craves, she's just a hairbreadth away from making a very stupid decision. But when extraordinary times call for extraordinary measures, she's prepared to play ball to get her man.




The tryouts are hell, the first match ends bloody, and the morning after the selection party she wakes up in the worst place possible—in the arms of the captain of the soccer team. The hottest guy in school… Ryan Hunter."
This book was so cheesy!! There are times where I would definitely be all over a cheesy YA romance but this was just not the moment for it. I have to say that when I'm in cheesy mood I will definitely be picking up Ryan's POV, Ryan Hunter (way to be creative!), but I just couldn't deal with all the freaking cheese! It was pretty predictable and cliched but there moments where it was quite cute and original.
If you are look for a quick and easy read then pick this up. I started and finished this right before I bed so it could be something you read in between books.
**Just wanted to let you know that this is a free read on Amazon! You can click here to be taken to the page.
Rating: 2.5 out of 5 stars
Author: Lacey Weatherford
Publisher: Moonstruck Media
Number of Pages: 332
Synopsis:
"

Cami Wimberley has a plan, and that plan includes no room for boys—especially the big time party animal, Hunter Wilder, no matter how handsome and charismatic he is. She's beautiful, a senior, extremely talented, gets good grades, and is working her way toward her dream college to be a musical theater major. Everything is perfect.




Hunter Wilder does not want a girlfriend—that would complicate his life way too much right now. He especially doesn't want this girl, Miss-Goody-Two-Shoes, so how come he can't keep his eyes off her? He tries to keep her at arms length, but fate seems to keep pushing them together. Before long, it's obvious to everyone they're crushing on each other.




As sparks begin to fly, Hunter finds himself sinking deeper and deeper into hot water. Soon he's scrambling to keep Cami from discovering his dark secret—one that can destroy their entire relationship."
This book was really adorable! The story was really sweet and I loved the characters. My only problem with it was that the overall writing was a bit undeveloped and the plot could have used a little more substance to it. The characters were so cute. Cami is such a cool, sweet girl and Hunter...well, he's just Hunter. This story would have been amazing if it weren't for the underdeveloped writing. This story was also somewhat predictable but the ending was a shocker and I've definitely been persuaded to read the rest of the series.
**Just wanted to let you know that this is a free read on Amazon! You can click
here
to be taken to the page.
Rating: 3.5 out of 5 stars!