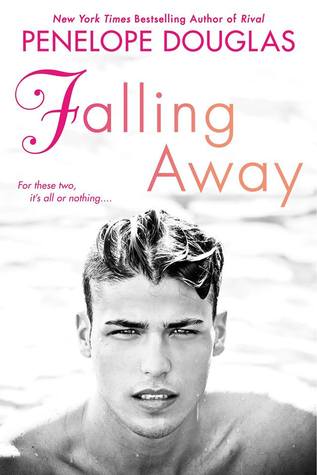 Author: Penelope Douglas
Publisher: Penguin Group
Number of Pages: 429
Synopsis:
"Jaxon is the guy she's supposed to avoid. K.C. is the girl he won't let get away....

K. C. Carter has always followed the rules—until this year, when a mistake leaves her the talk of her

college campus and her carefully arranged life comes crashing to a halt. Now she's stuck in her

small hometown for the summer to complete her court-ordered community service, and to make

matters worse, trouble is living right next door.

Jaxon Trent is the worst kind of temptation and exactly what K.C. was supposed to stay away from

in high school. But he never forgot her. She was the one girl who wouldn't give him the time of day

and the only one to ever say no. Fate has brought K.C. back into his life—except what he thought

was a great twist of luck turns out to be too close for comfort. As the bond between them grows, he

discovers that convincing K.C. to get out from her mother's shadow is hard, but revealing the

darkest parts of his soul is nearly impossible.… "
BUY LINKS:
I knew from the moment we met Jax in Jared and Tate's story that he was going to be my favorite, and he sure was. A hot guy that is also kind of a computer geek? Sign me the hell up!
This whole entire was a lot more dark and sad then the other two books were, the difficult life that both these characters have to deal with creates a very different aura for this book, you are more likely to cry in this book.
"Girls dress for others. Women dress for themselves."
I think between both stories, K.C.'s story hit me the hardest, not because of the situation she way in (I can definitely relate to a few parts) but it's something you don't really read about it ever. We read about these characters who were abused as children or neglected but what K.C. went through it a whole other story
"I wrapped my arms around his waist. "You called me your girl." I nodded, waggling my eyebrows. "And," I continued, "you'd better believe this little wallflower will cut a bitch with that knife of yours if anyone lays a hand on you."
The amount of sass and steamy scenes in this book definitely takes the series to a whole new level. None of the other books go as far as Jax has. My sister is reading this at the moment and she gets really uncomfortable at times, where with the other books she was fine. It definitely makes me want Jax a lot more ;).
"I love it when you get mouthy," he whispered down on me. "It makes me want to shut you up."
See what I mean? You guys can only imagine how the book continues.
Rating: 5 out of 5 stars!! (What else would it get?)
*A copy of this book was provided by the tour host & publisher in exchange for an honest review.
How did you find such a big interest in cars? We know some about your fascination
with computers but cars is kind of a different area of interest.
Well, I think Jared and Madoc were a big influence in that area. I was always hanging around them, and I
like mechanics and engineering, learning how things work. It's how I got interested in computers. When
Jared gave me his GT, it was more than just an interest in cars, though. It was also about taking care of
something. I'd never had much to be proud of. Not a nice house or cool clothes, so it was really special
when he gave me his car. It was mine, and it was awesome, and I wanted to learn how to take care of it.
When I took an interest in the Loop, though, it wasn't about racing or the cars. I'd moved onto design
with the renovations at the Loop and broadcasting the races. It was great to mix cars and computers,
like my ultimate Candyland.
Until I met someone who was more fun to play with, that is.
Penelope Douglas is a writer in Las Vegas. Born in Dubuque, Iowa, she is the oldest of five children.
Penelope attended the University of Northern Iowa, earning a Bachelor's degree in Public
Administration, because her father told her to "just get the degree!" She then earned a Masters of
Science in Education at Loyola University in New Orleans, because she hated Public Administration.
One night, she got tipsy and told the bouncer at the bar
where she worked that his son was hot, and
three years later they were married. To the son, not the bouncer. They have spawn, but just one. A
daughter named Aydan. Penelope loves sweets, The Originals, and she shops at Target almost daily.
a Rafflecopter giveaway