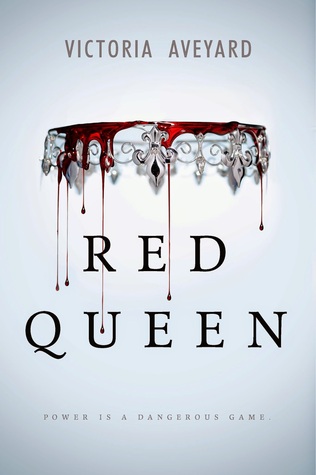 Author: Victoria Aveyard
Publisher: HarperTeen
Number of Pages: 400
Synopsis:
"

The poverty stricken Reds are commoners, living under the rule of the Silvers, elite warriors with god-like powers.




To Mare Barrow, a 17-year-old Red girl from The Stilts, it looks like nothing will ever change.




Mare finds herself working in the Silver Palace, at the centre of

those she hates the most. She quickly discovers that, despite her red blood, she possesses a deadly power of her own. One that threatens to destroy Silver control.




But power is a dangerous game. And in this world divided by blood, who will win?"
WHAT. THE. HELL. DID. I. JUST. READ?!?!?!
When I picked this book up I just...I thought it was going to be another rebellion book with the romance and the mental conflicts which is fine. I love those kind of books but this book! Sometimes I just can't even comprehend what I'm feeling about this book.
I think the biggest thing I felt while reading this book was how different it was from all the other books out there. There will be moments when you think there is a love triangle but then its a square and then its just nothing. There was a LOT to take in with the history and the way society worked in this book.
"In the fairy tales, the poor girl smiles when she becomes a princess. Right now, I don't know if I'll ever smile again."
My absolute favorite thing in this book was how I could make a connection to our world right now. (What Harman?! Are you using something from English class?!) I can relate it to all the terrorism that the world is experiencing right now, especially since I started this book after the attack in Paris, we retaliate against innocent people and this book has a lot of this kind of thing. I'm not sure whether Victoria Aveyard had that in mind but she did just that. This book is just so much more complex and intriguing than I was ever expecting it to be.
"Flame and shadow. One cannot exist without the other."
Full of originality, heartbreak and an overload of emotion, this is a book that demands a reader's attention and it will certainly not disappoint. A sequel is demanded.
Already my favorite book of 2015, the Red Queen will blow the minds' of readers everywhere.
But now we have to wait until 2016 to get the sequel.....
I was having a hard time giving this book a rating because I don't really give books more than 5 stars but this book just deserved it. The third book in Little Bookworm history to get more than 5 stars!!
Rating: 6 out of 5!!!
*An ARC of this book was provided in exchange for an honest review.
I would normally never give an ARC away if I loved it this much but I'm definitely going to be buying a hardcover eventually so one lucky winner will get am ARC of The Red Queen!
Ends February 14th 12:00 AM EST
US Only (Sorry Intl!!)
Must be at least 13 years old to enter
a Rafflecopter giveaway