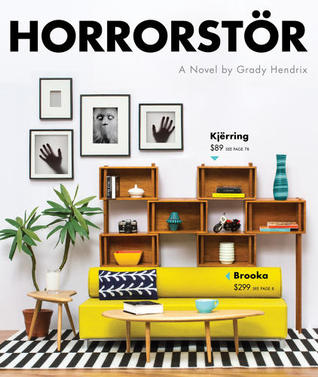 Author: Grady Hendrix
Publisher: Quirk Books
Number of Pages: 243
Synopsis:
"

Something strange is happening at the Orsk furniture superstore in Cleveland, Ohio. Every morning, employees arrive to find broken Kjerring bookshelves, shattered Glans water goblets, and smashed Liripip wardrobes. Sales are down, security cameras reveal nothing, and store managers are panicking.




To unravel the mystery, three employees volunteer to work a nine-hour dusk-till-dawn shift. In the dead of the night, they'll patrol the empty showroom floor, investigate strange sights and sounds, and encounter horrors that defy the imagination.




A traditional haunted house story in a thoroughly contemporary setting, Horrorstör comes packaged in the form of a glossy mail order catalog, complete with product illustrations, a home delivery order form, and a map of Orsk's labyrinthine showroom. It's "a treat for fans of The Evil Dead or Zombieland, complete with affordable solutions for better living."—Kirkus Reviews."
An amazing, quirky book that all fans of horror will enjoy, and even home decorators will love it too.
I don't read horror. I don't know why I don't but I don't. The last time I read a "horror" novel was Anna Dressed in Blood and that was a bit tame but I still loved it, but I was not prepared for this book.
Grady Hendrix made an absolutely amazing book, that has forever made me want to read more horror. I legit thought I was tripping while reading this book! I was not expecting how scary this book was going to be. The writing is definitely the big player, the word choice and descriptions that Hendrix uses really brought the level of this book up a TON. I would definitely want to learn how to write from Hendrix. His writing is phenomenal.
What really brought me to this book was the cover, it looks like a regular fun, peppy IKEA magazine but you can see the subtle hints of the horror concept in the pictures on the wall. That changes when you turn it around...it changes a lot. Even throughout the book when they were talking about different furniture items they started out normal and got progressively creepier and dangerous. These subtle hints really make this book as awesome as it really is.
Whether you are or aren't a fan of horror, I highly recommend you pick this book up. The whole dynamic of this book is so unique, whether it be the way it is set up, the cover, the writing, it is all just so damn amazing.
Rating: 5 out of 5 stars!!
*A copy of this book was provided by the publisher in exchange for an honest review.
Check out the amazing Horrostor trailer!