October is filled with so many AMAZING and BEAUTIFUL reads, I know for a fact my bank account is going to HATE me! But oh well...

This first release is already at a great start, it's...Whatever Life Throws At You by Julie Cross!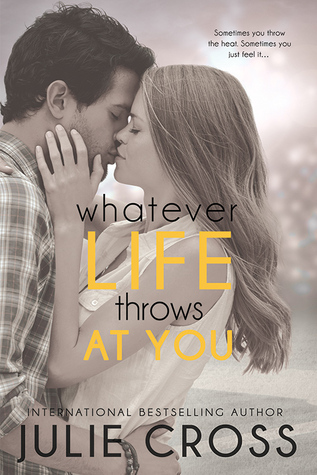 Release Date: October 7, 2014
Publisher: Entangled Teen
Number of Pages: 320

Synopsis:
"Life loves a good curveball…


Seventeen-year-old Annie Lucas's life is completely upended the moment her dad returns to the major leagues as the new pitching coach for the Kansas City Royals. Now she's living in Missouri

(too cold)

, attending an all-girls school

(no boys)

, and navigating the strange world of professional sports. But Annie has dreams of her own—most of which involve placing first at every track meet…and one starring the Royals' super-hot rookie pitcher.




But nineteen-year-old Jason Brody is completely, utterly, and totally off-limits. Besides, her dad would kill them both several times over. Not to mention Brody has something of a past, and his fan club is filled with C-cupped models, not smart-mouthed high school "brats" who can run the pants off every player on the team. Annie has enough on her plate without taking their friendship to the next level. The

last

thing she should be doing is falling in love.




But baseball isn't just a game. It's life. And sometimes, it can break your heart…"
This release looks perfect for Halloween, it's...The Fall by Bethany Griffin!
"Madeline Usher is doomed.


She has spent her life fighting fate, and she thought she was succeeding. Until she woke up in a coffin.




Ushers die young. Ushers are cursed. Ushers can never leave their house, a house that haunts and is haunted, a house that almost seems to have a mind of its own. Madeline's life—revealed through short bursts of memory—has hinged around her desperate plan to escape, to save herself and her brother. Her only chance lies in destroying the house.




In the end, can Madeline keep her own sanity and bring the house down?

The Fall

is a literary psychological thriller, reimagining Edgar Allan Poe's classic

The Fall of the House of Usher

."
Fans of Game of Throne are going to drool over this book, Endgame: The Calling by James Frey!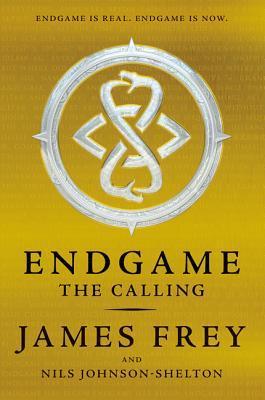 Release Date: October 7, 2014
Publisher: HarperTeen
Number of Pages: 477

Synopsis:
"

Twelve thousand years ago, they came. They descended from the sky amid smoke and fire, and created humanity and gave us rules to live by. They needed gold and they built our earliest civilizations to mine it for them. When they had what they needed, they left. But before they left, they told us someday they would come back, and when they did, a game would be played. A game that would determine our future.




This is Endgame.




For ten thousand years the lines have existed in secret. The 12 original lines of humanity. Each had to have a Player prepared at all times. They have trained generation after generation after generation. In weapons, languages, history, tactics, disguise assassination. Together the players are everything: strong, kind, ruthless, loyal, smart, stupid, ugly, lustful, mean, fickle, beautiful, calculating, lazy, exuberant, weak. They are good and evil. Like you. Like all.




This is Endgame.




When the game starts, the players will have to find three keys. The keys are somewhere on earth. The only rule of their Endgame is that there are no rules. Whoever finds the keys first wins the game. Endgame: The Calling is about the hunt for the first key. And just as it tells the story of the hunt for a hidden key, written into the book is a puzzle. It invites readers to play their own Endgame and to try to solve the puzzle. Whoever does will open a case filled with gold. Alongside the puzzle will be a revolutionary mobile game built by Google's Niantic Labs that will allow you to play a real-world version of Endgame where you can join one of the lines and do battle with people around you.

Will exuberance beat strength? Stupidity top kindness? Laziness thwart beauty? Will the winner be good or evil? There is only one way to find out.




Play.

Survive.

Solve.

People of Earth.

Endgame has begun."
This book is also to DIE FOR, it's...The Young Elites by Marie Lu!!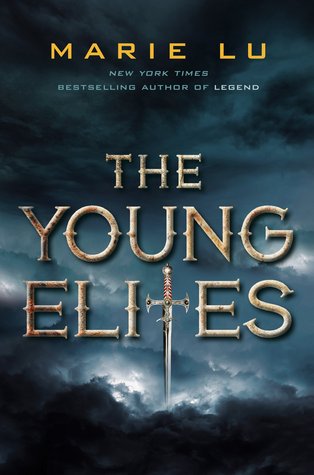 Release Date: October 7, 2014
Publisher:
G.P. Putnam's Sons Books for Young Readers

Number of Pages: 368

Synopsis:
"

I am tired of being used, hurt, and cast aside.




Adelina Amouteru is a survivor of the blood fever. A decade ago, the deadly illness swept through her nation. Most of the infected perished, while many of the children who survived were left with strange markings. Adelina's black hair turned silver, her lashes went pale, and now she has only a jagged scar where her left eye once was. Her cruel father believes she is a malfetto, an abomination, ruining their family's good name and standing in the way of their fortune. But some of the fever's survivors are rumored to possess more than just scars—they are believed to have mysterious and powerful gifts, and though their identities remain secret, they have come to be called the Young Elites.




Teren Santoro works for the king. As Leader of the Inquisition Axis, it is his job to seek out the Young Elites, to destroy them before they destroy the nation. He believes the Young Elites to be dangerous and vengeful, but it's Teren who may possess the darkest secret of all.




Enzo Valenciano is a member of the Dagger Society. This secret sect of Young Elites seeks out others like them before the Inquisition Axis can. But when the Daggers find Adelina, they discover someone with powers like they've never seen.




Adelina wants to believe Enzo is on her side, and that Teren is the true enemy. But the lives of these three will collide in unexpected ways, as each fights a very different and personal battle. But of one thing they are all certain: Adelina has abilities that shouldn't belong in this world. A vengeful blackness in her heart. And a desire to destroy all who dare to cross her.




It is my turn to use. My turn to hurt"
With a beautiful cover this book is captivating, it's...Exquisite Captive by Heather Demetrios!
"

Forced to obey her master.

Compelled to help her enemy.

Determined to free herself.




Nalia is a jinni of tremendous ancient power, the only survivor of a coup that killed nearly everyone she loved. Stuffed into a bottle and sold by a slave trader, she's now in hiding on the dark caravan, the lucrative jinni slave trade between Arjinna and Earth, where jinn are forced to grant wishes and obey their human masters' every command. She'd give almost anything to be free of the golden shackles that bind her to Malek, her handsome, cruel master, and his lavish Hollywood lifestyle.




Enter Raif, the enigmatic leader of Arjinna's revolution and Nalia's sworn enemy. He promises to free Nalia from her master so that she can return to her ravaged homeland and free her imprisoned brother—all for an unbearably high price. Nalia's not sure she can trust him, but Raif's her only hope of escape. With her enemies on the hunt, Earth has become more perilous than ever for Nalia. There's just one catch: for Raif's unbinding magic to work, Nalia must gain possession of her bottle…and convince the dangerously persuasive Malek that she truly loves him. Battling a dark past and harboring a terrible secret, Nalia soon realizes her freedom may come at a price too terrible to pay: but how far is she willing to go for it?




Inspired by Arabian Nights, EXQUISITE CAPTIVE brings to life a deliciously seductive world where a wish can be a curse and shadows are sometimes safer than the light."
My feels are everywhere when it comes to this book, it's...Black Ice by Becca Fitzpatrick!
"

Sometimes danger is hard to see... until it's too late.




Britt Pfeiffer has trained to backpack the Teton Range, but she isn't prepared when her ex-boyfriend, who still haunts her every thought, wants to join her. Before Britt can explore her feelings for Calvin, an unexpected blizzard forces her to seek shelter in a remote cabin, accepting the hospitality of its two very handsome occupants—but these men are fugitives, and they take her hostage.




In exchange for her life, Britt agrees to guide the men off the mountain. As they set off, Britt knows she must stay alive long enough for Calvin to find her. The task is made even more complicated when Britt finds chilling evidence of a series of murders that have taken place there... and in uncovering this, she may become the killer's next target.




But nothing is as it seems in the mountains, and everyone is keeping secrets, including Mason, one of her kidnappers. His kindness is confusing Britt. Is he an enemy? Or an ally?




BLACK ICE is New York Times bestselling author Becca Fitzpatrick's riveting romantic thriller set against the treacherous backdrop of the mountains of Wyoming. Falling in love should never be this dangerous…"
This is probably the most beautiful cover I've ever seen and it belongs to...Kiss Kill Vanish by Jessica Martinez!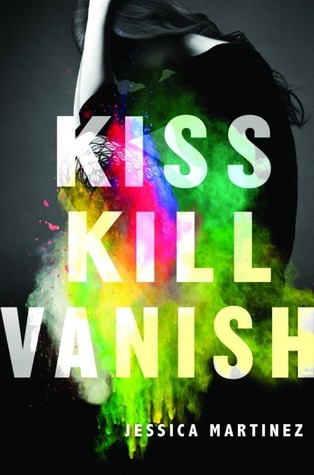 Release Date: October 7, 2014
Publisher: Katherine Tegen Books
Number of Pages: 432

Synopsis:
"

Valentina Cruz no longer exists.




One moment, she was wrapped in Emilio's arms, melting into his kiss. The next, she was witnessing the unthinkable: a murder in cold blood, ordered by her father and carried out by her boyfriend. When Emilio pulled the trigger, Valentina disappeared. She made a split-second decision to shed her identity and flee her life of privilege, leaving the glittering parties and sultry nightlife of Miami far behind.




She doesn't know how to explain to herself what she saw. All she knows now is that nothing she believed about her family, her heart, or Emilio's love, was real.




She can change her name and deny her past, but Valentina can't run from the truth. The lines between right and wrong, and trust and betrayal, will be blurred beyond recognition as she untangles the deceptions of the two men she once loved and races to find her own truth."
What new releases are you excited about?