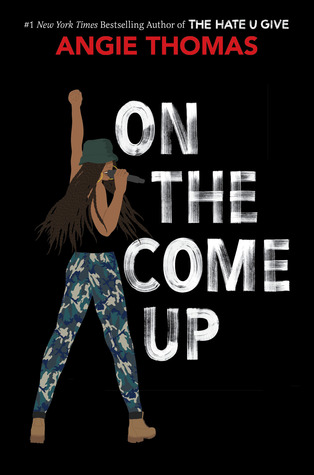 Author: Angie Thomas
Publisher: Balzer + Bray
Number of Pages: 464
Release Date: February 5, 2019
Goodreads I Amazon
Synopsis:
"

Sixteen-year-old Bri wants to be one of the greatest rappers of all time. Or at least make it out of her neighborhood one day. As the daughter of an underground rap legend who died before he hit big, Bri's got big shoes to fill. But now that her mom has unexpectedly lost her job, food banks and shutoff notices are as much a part of Bri's life as beats and rhymes. With bills piling up and homelessness staring her family down, Bri no longer just wants to make it—she has to make it.


On the Come Up

is Angie Thomas's homage to hip-hop, the art that sparked her passion for storytelling and continues to inspire her to this day. It is the story of fighting for your dreams, even as the odds are stacked against you; of the struggle to become who you are and not who everyone expects you to be, and of the desperate realities of poor and working-class black families."
This is an obvious TBR for me, especially for Harman, and I think, most of the bookish community. Harman has read The Hate U Give by Angie Thomas at least four times already, so she is pumped for her next book. We both gave Thomas' debut novel a perfect rating, and Harman may have even bounced the rating up to a 6 out of 5 stars. I have no doubt that this book is going to be just as amazing and thought-provoking as the first.
The references and cultural comments Thomas makes throughout THUG are sure to come shining through in her second novel, and that is something everyone in the community loves. Her writing is relatable and something new for the community. Harman and I both believe that Angie Thomas is writing some groundbreaking YA novels so we cannot wait to see what this new release has in store for us next.