Top Ten Tuesday was created by
The Broke and the Bookish
in June of 2010 and was moved to That Artsy Reader Girl in January of 2018. It was born of a love of lists, a love of books, and a desire to bring bookish friends together.
There are so many new books coming out in 2018 that sound phenomenal. Some of these books I would actually do a lot to get my hands on this very minute. Luckily some of these books are coming out within a few weeks but others I'll be waiting much longer. :(
**These aren't in any particular order!
10. War Storm by Victoria Aveyard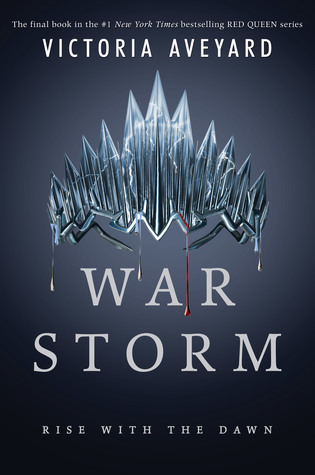 Release Date: May 15, 2018
Series: Red Queen #4
Publisher: HarperTeen
Number of Pages: 672
Goodreads | Amazon
Synopsis:
"

VICTORY COMES AT A PRICE.

Mare Barrow learned this all too well when Cal's betrayal nearly destroyed her. Now determined to protect her heart—and secure freedom for Reds and newbloods like her—Mare resolves to overthrow the kingdom of Norta once and for all… starting with the crown on Maven's head.

But no battle is won alone, and before the Reds may rise as one, Mare must side with the boy who broke her heart in order to defeat the boy who almost broke her. Cal's powerful Silver allies, alongside Mare and the Scarlet Guard, prove a formidable force. But Maven is driven by an obsession so deep, he will stop at nothing to have Mare as his own again, even if it means demolishing everything—and everyone—in his path.

War is coming, and all Mare has fought for hangs in the balance. Will victory be enough to topple the Silver kingdoms? Or will the little lightning girl be forever silenced?

In the epic conclusion to Victoria Aveyard's stunning series, Mare must embrace her fate and summon all her power… for all will be tested, but not all will survive."
9. Legendary by Stephanie Garber
Release Date: May 29, 2018
Series: Caraval #2
Publisher: Flatiron Books
Number of Pages: 416
Goodreads | Amazon
Synopsis:
"

A heart to protect. A debt to repay. A game to win.




After being swept up in the magical world of Caraval, Donatella Dragna has finally escaped her father and saved her sister Scarlett from a disastrous arranged marriage. The girls should be celebrating, but Tella isn't yet free. She made a desperate bargain with a mysterious criminal, and what Tella owes him no one has ever been able to deliver: Caraval Master Legend's true name.




The only chance of uncovering Legend's identity is to win Caraval, so Tella throws herself into the legendary competition once more—and into the path of the murderous heir to the throne, a doomed love story, and a web of secrets…including her sister's. Caraval has always demanded bravery, cunning, and sacrifice. But now the game is asking for more. If Tella can't fulfill her bargain and deliver Legend's name, she'll lose everything she cares about—maybe even her life. But if she wins, Legend and Caraval will be destroyed forever.




Welcome, welcome to Caraval...the games have only just begun."
8. Always Never Yours by Emily Wibberley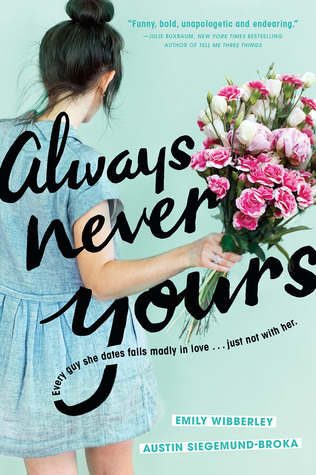 Release Date: May 22, 2018
Publisher: Speak
Number of Pages: 352
Goodreads | Amazon
Synopsis:
"

Megan Harper is the girl before. All her exes find their one true love right after dating her. It's not a curse or anything, it's just the way things are, and Megan refuses to waste time feeling sorry for herself. Instead, she focuses on pursuing her next fling, directing theatre, and fulfilling her dream school's acting requirement in the smallest role possible.




But her plans quickly crumble when she's cast as none other than Juliet–yes, that Juliet–in her high school's production. It's a nightmare. No–a disaster. Megan's not an actress and she's certainly not a Juliet. Then she meets Owen Okita, an aspiring playwright who agrees to help Megan catch the eye of a sexy stagehand in exchange for help writing his new script.




Between rehearsals and contending with her divided family, Megan begins to notice Owen–thoughtful, unconventional, and utterly unlike her exes, and wonders: shouldn't a girl get to play the lead in her own love story?"
7. Almost Impossible by Nicole Williams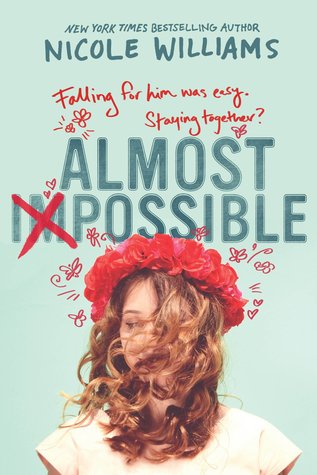 Release Date: June 19, 2018
Publisher: Crown Books for Young Readers
Number of Pages: 256
Goodreads | Amazon
Synopsis:
"

When Jade decided to spend the summer with her aunt in California, she thought she knew what she was getting into. But nothing could have prepared her for Quentin. Jade hasn't been in suburbia long and even she knows her annoying (and annoyingly cute) next-door neighbor spells T-R-O-U-B-L-E.




And when Quentin learns Jade plans to spend her first American summer hiding out reading books, he refuses to be ignored. Sneaking out, staying up, and even a midnight swim, Quentin is determined to give Jade days--and nights--worth remembering.




But despite their storybook-perfect romance, every time Jade moves closer, Quentin pulls away. And when rumors of a jilted ex-girlfriend come to light, Jade knows Quentin is hiding a secret--and she's determined to find out what it is."
6. The Fall of Innocence by Jenny Torres Sanchez
Release Date: June 12, 2018
Publisher: Philomel Books
Number of Pages: 320
Goodreads | Amazon
Synopsis:
"

For the past eight years, sixteen-year-old Emilia DeJesus has done her best to move on from the traumatic attack she suffered in the woods behind her elementary school. She's forced down the memories--the feeling of the twigs cracking beneath her, choking on her own blood, unable to scream. Most of all, she's tried to forget about Jeremy Lance, the boy responsible, the boy who caused her such pain. Emilia believes that the crows who watched over her that day, who helped her survive, are still on her side, encouraging her to live fully. And with the love and support of her mother, brother, and her caring boyfriend, Emilia is doing just that.




But when a startling discovery about her attacker's identity comes to light, and the memories of that day break through the mental box in which she'd shut them away, Emilia is forced to confront her new reality and make sense of shifting truths about her past, her family, and herself."
5. Mariam Sharma Hits the Road by Sheba Karim
Release Date: June 5, 2018
Publisher: HarperTeen
Number of Pages: 320
Goodreads | Amazon
Synopsis:
"

The summer after her freshman year in college, Mariam is looking forward to working and hanging out with her best friends: irrepressible and beautiful Ghazala and religious but closeted Umar. But when a scandalous photo of Ghaz appears on a billboard in Times Square, Mariam and Umar come up with a plan to rescue her from her furious parents. And what better escape than New Orleans?




The friends pile into Umar's car and start driving south, making all kinds of pit stops along the way--from a college drag party to a Muslim convention, from alarming encounters at roadside diners to honky-tonks and barbeque joints.




Along with the adventures, the fun banter, and the gas station junk food, the friends have some hard questions to answer on the road. With her uncle's address in her pocket, Mariam hopes to learn the truth about her father (and to make sure she didn't inherit his talent for disappearing). But as each mile of the road trip brings them closer to their own truths, they know they can rely on each other, and laughter, to get them through."
4. Beast: A Tale of Love and Revenge by Lisa Jensen
Release Date: July 10, 2018
Publisher: Candlewick Press
Number of Pages: 352
Goodreads | Amazon
Synopsis:
"

They say Château Beaumont is cursed. But servant-girl Lucie can't believe such foolishness about handsome Jean-Loup Christian Henri LeNoir, Chevalier de Beaumont, master of the estate. But when the chevalier's cruelty is revealed, Lucie vows to see him suffer. A wisewoman grants her wish, with a spell that transforms Jean-Loup into monstrous-looking Beast, reflecting the monster he is inside. But Beast is nothing like the chevalier. Jean-Loup would never patiently tend his roses; Jean-Loup would never attempt poetry; Jean-Loup would never express remorse for the wrong done to Lucie. Gradually, Lucie realizes that Beast is an entirely different creature from the handsome chevalier, with a heart more human than Jean-Loup's ever was. Lucie dares to hope that noble Beast has permanently replaced the cruel Jean-Loup — until an innocent beauty arrives at Beast's château with the power to break the spell."
3. Heart of Thorns by Bree Barton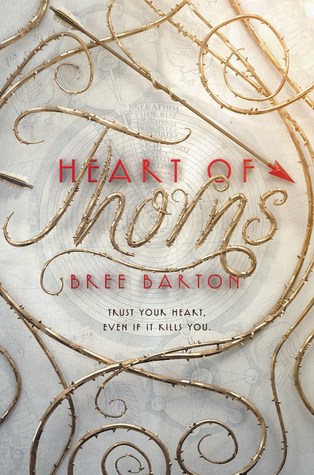 Release Date: July 31, 2018
Series: Heart of Thorns #1
Publisher: Katherine Tegen Books
Number of Pages: 464
Goodreads | Amazon
Synopsis:
"

In the ancient river kingdom, touch is a battlefield, bodies the instruments of war. Seventeen-year-old Mia Rose has pledged her life to hunting Gwyrach: women who can manipulate flesh, bones, breath, and blood.




Not women. Demons. The same demons who killed her mother without a single scratch.




But when Mia's father suddenly announces her marriage to the prince, she is forced to trade in her knives and trousers for a sumptuous silk gown. Only after the wedding goes disastrously wrong does she discover she has dark, forbidden magic—the very magic she has sworn to destroy."
2. Losing the Field by Abbi Glines
Release Date: August 31, 2018
Series: The Field Party #4
Publisher: Simon Pulse
Number of Pages: 336
Goodreads | Amazon
Synopsis:
"

Losing his dream, his ultimate plan, and his future- Nash Lee never expected to be facing a life without football. One wrong move and it had all changed. Going back to school for his senior year no longer appealed to him. He'd rather not leave his house. Walking back into Lawton High School, seeing pity in everyone's eyes was just another reality in his nightmare.




Revenge wasn't a pretty thing. Tallulah Liddell had found it was rather controlling. The way you looked at life changed completely when you clung to the ugly notion. But she'd done it anyway. From the last day of her junior year when Ryker Lee had made a fat joke about her and Nash laughed with him, she'd been driven by pain. It wasn't like no one had made fun of her weight before. She was used to that. What had hurt so deeply was Nash's laughter. He'd always been the one person to notice her, include her, not treat her differently. But that one moment had changed it all. From the time she walked out of the school building to the moment she returned for her senior year Tallulah had been determined to lose weight and finally be the size her peers considered acceptable.




What she wasn't expecting on her return was to find a broken Nash Lee who no longer smiled, rarely spoke, and didn't care about anything or anyone around him. He was just existing. But the pain in his eyes she understood all too well. He was alone. He no longer fit into the perfect package."
1. My So-Called Bollywood Life by Nisha Sharma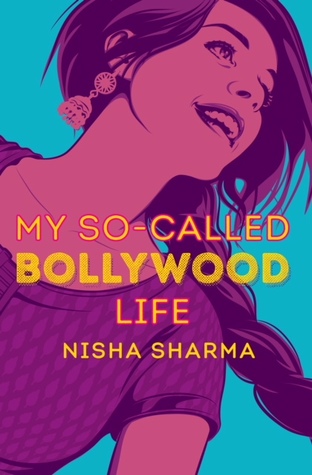 Release Date: May 15, 2018
Publisher: Crown BYFR
Number of Pages: 304
Goodreads | Amazon
Synopsis:
"

Winnie Mehta was never really convinced that Raj was her soulmate, but their love was written in the stars. Literally, a pandit predicted Winnie would find the love of her life before her 18th birthday, and Raj meets all of the qualifications. Which is why Winnie is shocked to return from her summer at film camp to find her boyfriend of three years hooking up with Jenny Dickens. Worse, Raj is crowned chair of the student film festival, a spot Winnie was counting on for her film school applications. As a self-proclaimed Bollywood expert, Winnie knows this is not how her perfect ending is scripted.




Then there's Dev, a fellow film geek, and one of the few people Winnie can count on to help her reclaim control of her story. Dev is smart charming, and challenges Winnie to look beyond her horoscope to find someone she'd pick for herself. But does falling for Dev mean giving up on her prophecy, and her chance to live happily ever after? To get her Bollywood-like life on track, Winnie will need a little bit of help from fate, family, and of course, a Bollywood movie star."
What books are you looking forward to?